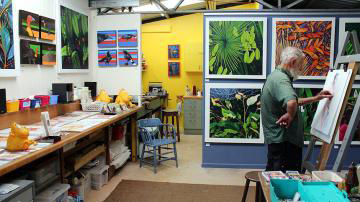 Home to a six-week art, culture and music festival, the beautiful Hinterland region is filled with activities for all the family.
Even the car trip is one of excitement as visitors travelling the country roads from Conondale and Kenilworth through the coast hinterland north to Dagun, will be able to spot the straw creations and sculptures that make up the Mary Valley Scarecrow Festival. There are a number of activities suitable for children and grandparent alike including:
The Glasshouse Country Festival (17-26 Oct)
The Celebration of Books (24-26 Oct) is filled with workshops, displays and great children's activities based around the joy of books, writing and reading.
"Hinterland really does offer something for every generation – not just the kids,"Executive Producer Vickii Cotter "From the buzz of the festival to the sights and sounds of the stunning surroundings, boredom will not be problem for anyone!"

Bringing communities together and showcasing spectacular talent, Hinterland provides a great day trip destination, and with great Stay & Play accommodation packages from event sponsors Sunshine Coast Destination Ltd (www.visitsunshinecoast.com.au), a fun getaway could be just what is needed to escape the daily grind.
The full program dates are as follows:
Sculpture on the Edge: 19 September – 26 October
Mary Valley Scarecrow Festival: 19 September – 17 October
Open Studios: 11/12 October & 18/19 October
Glasshouse Country Festival: 17 October – 26 October
Reality Bites: 23-26 October
Celebration of Books: 24-26 October
ArTech: 26 October