Learn the simple, fun exercises that can help healthy ageing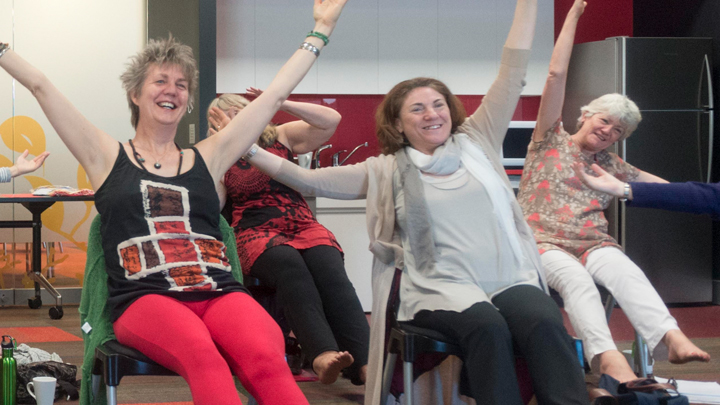 June 18, 2016

9:00 am - 1:00 pm
As we age, many of the physical and mental capabilities we take for granted can naturally decline. Those of us caring for elderly parents, or a loved one with a disability, will know this all too well.
Yet with some conscious effort in the right areas, the body and brain's abilities can be maintained – even improved.
Ageless Grace is a fun, simple way to exercise – seated, standing or even lying down. 21 simple exercises based on the science of neuroplasticity work all parts of the body and brain in ways that help develop, maintain or regenerate our functionality.
By learning these simple, fun tools, you can help yourself, your loved ones and even your broader community age healthily. Click here to learn more.
If you are concerned about the wellbeing of a parent or loved one – or eager to ensure you're on the right path to healthy ageing yourself – this invaluable course could prove genuinely life-changing.
Gold Coast readers are invited to an invaluable session this Saturday. The 4 hour seminar will cover the following:
An introduction to Ageless Grace®
How Ageless Grace® was developed
Taking the 21-day Challenge
Introduction to the 21 Tools
Using the tools to limit the effects of ageing
Putting the tools into practice
Training is done in comfortable chairs to lively, upbeat music. You will spend most of the time practising the tools, with plenty of time to ask questions.
Eager to become a Certified Ageless Grace Educator?
If you would like to teach your own group classes or hold private one-on-ones with clients and students, this seminar will be followed by a 12 hour certification program over Saturday and Sunday.
The Seminar provides a great start, allowing you to have a relaxed, energetic overview before going into the detail provided by the Certification which goes into depth about the primary and secondary benefits of each tool, music suggestions for practice and use with clients, safety and precautions, PR and marketing skills, basic anatomy, organising a class format, and ideas on how to teach these spontaneous in-the-moment tools that are sparked by imagination and creativity, memory and recall, kinesthetic learning, analytical thinking and strategic planning. Students are given an opportunity to develop their own creative ideas in taking the class with a group.
The 12 contact hours of the Certification cover:
An introduction to neuroplasticity
The importance of simple, playful movement in daily living
Detailed information Primary and Secondary benefits of each tool
Working with the 21 Tools in a one-on-one or group situation with ideas for creating variety and fun in a simple way
Crafting movement with music and the 21 Tools
Introduction to basic anatomy and the importance of moving safely and within individual physical boundaries
Basic PR and marketing including how and where to build classes
Organising a class or workshop format
Using Ageless Grace® in your own life