Australian Philharmonic Orchestra - New Year's Eve Concert Series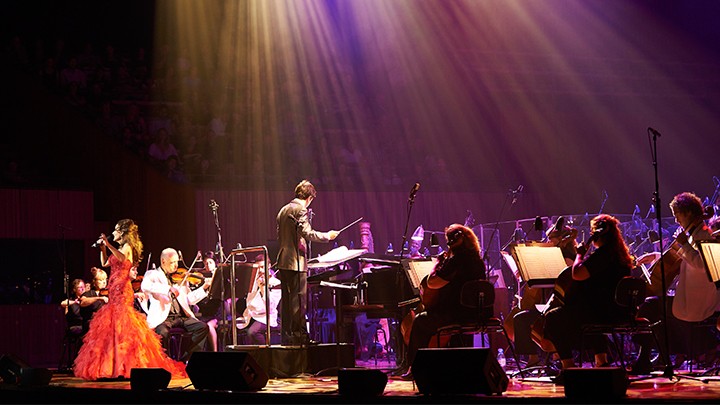 December 31, 2015

2:00 pm - 8:00 pm
A long-held tradition in Melbourne, and now in its 34th year, the Australian Philharmonic Orchestra is proud to present the 2015 New Year's Eve Concert Series at Melbourne Arts Centre's Hamer Hall.
Affectionately known as the Aussie Pops, the magnificent 65-piece orchestra will perform a selection of popular classical and operatic music.  Led by the baton of Australia's celebrated conductor John Foreman, guests will be entertained by the master of ceremonies Denis Walter in song throughout the evening.
 Joining the Orchestra to herald in the New Year will be the stunning voice of New Zealand bass-baritone Teddy Tahu Rhodes and Australian soprano Greta Bradman, alongside special guest artists from the Victorian Opera.
With a rapidly growing international career, Teddy Tahu Rhodes' recent credits include South Pacific for Opera Australia and the title roles in The King and I and Don Giovanni, while Greta Bradman is known for her extraordinary vocal stamina and skill, having presented more than 1,000 performances with orchestras both in Australia and internationally.
For more than 30 years, the Australian Pops Orchestra has presented a unique blend of popular classical and contemporary music to Australian audiences. Every concertis a special event featuring fine music by world-class artists and performed across some of the nation's major concert venues.
What: The 2015 New Year's Eve Concert Series presented by Australian Philharmonic Orchestra
When: 2pm and 8pm on 31st December 2015
Where: Hamer Hall, Arts Centre Melbourne – 100 St Kilda Rd, Melbourne
Tickets: On sale now from $70. Available from www.apoconcerts.com.au or Box Office 1300 182 183