Young boy's touching apology for his not so heinous crime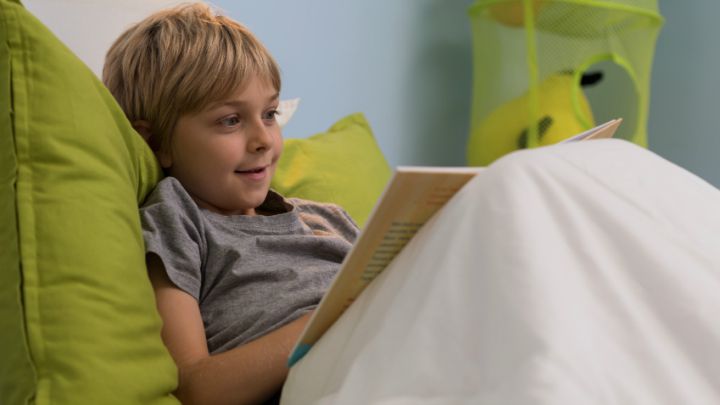 Here's a heart warming story for those of us who have ever tried to get our kids and grandkids to have great manners, take responsibility for their actions, and apologise when they've done something wrong.
A small boy has earned respect and praise after penning a handwritten note of apology to the Toronto Public Library, the crime he confessed to: falling asleep and accidentally tearing a page from a book he'd borrowed.
"I am sorry that a page ripped when it fell out of my bunk when I fell asleep reading. It won't happen again. I'm sorry. From Jackson," read the note inside a card addressed to "Library."
The library doesn't know how old the child is, but looking at the note and judging by the hand writing he is clearly very young – and his spelling is spot on.
The library posted the note on it's Facebook page and wrote that it had been found in the book drop at the Main Street branch.
Ad. Article continues below.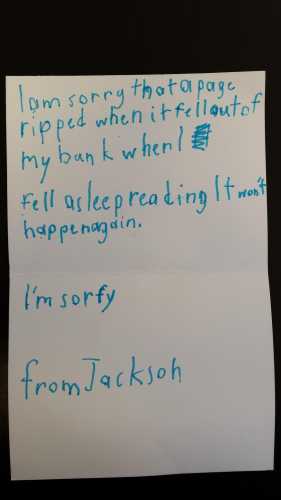 Apparently the note accompanied a torn comic book that had been repaired with tape.
This morning the post had attracted 4,174  likes and had been shared 1,048 times, with most people expressing their delight over the actions of the little man.
Facebook user Dawn Allen commented saying, "Been there…done that…many times. Best way to fall asleep! Keep reading everyone!"
Ad. Article continues below.
Author Claudette Nicole Melanson wrote, "Shared this on all my social media. Wonderful to see kids reading…and taking books so seriously. Makes me more proud to be an Ontario Author. What wonderful up and coming readers to look forward to."
Deb Smithers says, "Hey Jackson, when I used to work at the library, part of my job was fixing those things … and trust me, that wasn't the worst thing that happened to a book! I remember one that came back that had fallen out of a boat into a lake and came back with all wobbly pages. So keep reading, and they'll look after the booboos."
We think this is a lovely story, don't you?
Have your grandchildren ever written you little notes, or have you found notes they've written to other people? Do you have a favourite?