Would you like to have a Starts at 60 meetup in your area: List here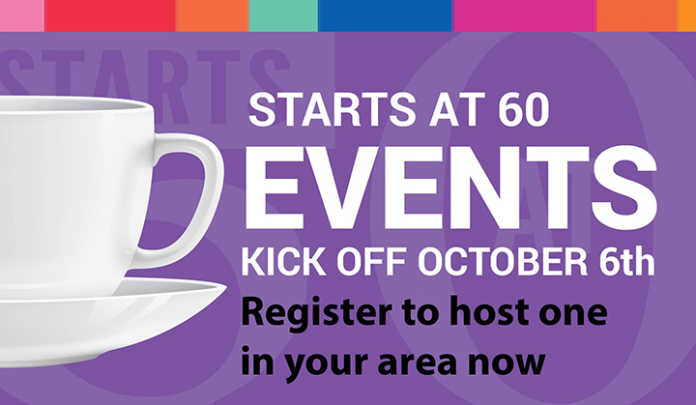 Everywhere I go I meet 60 year olds who ask me when we'll run widespread meetups they can attend, and today my keenness to do so had led me to a way we can make them work without extending our hardworking team to breaking point…. but we need to ask for your help in a big way.
We need volunteers who want to be the centre of each local event, choosing the venue, welcoming and bringing people together every month.  Would you consider holding a coffee meetup in your area every month to bring people together?  
We want to hold our meetups monthly for Starts at 60 on the first Tuesday of every month from 11am or the last Saturday of every month at 11am (you might choose Saturday if you work), in the same public locations if we can every month, allowing people to get more comfortable with coming.  We gradually want to grow these to be something rather special for you, in your local areas and have many going all over the country, all the time.  We'll list the events on our site, so people can find one in their area or "visit" one when they are on holidays in a different place too.
So, we are asking today if you would like to host an event in your area to get things started?    We think the best timing would be to kick it off on September 26th (Saturday) and October 6th 2015 (Tuesday), and then every month on the last Saturday and the first Tuesday thereafter creating a rhythm.  (We know you will likely go away from time to time so it will be a very loose agreement to help us get it started and you can ebb and flow with others in your area to be the host/hostess).  Everyone can pay for their own food and drinks, we just think it is special to be able to bring people together and help them find new friends, new experiences and new hobbies.
Ad. Article continues below.
If you could consider starting up a meetup in your area, please confirm to us by filling out the details in the form below.
We won't share your details with others, but we will put an event listing live on our site in the next couple of days in your requested venue and confirm when we've done so, if you fill out the form below.
And note: It doesn't need to be a big event.  We'll be happy if three people get together in a location, and put a smile on each others' faces – won't you!
We think this can be a really fun project.  We hope you'll get behind it.  Let's make new friends in safe places where we all feel comfortable, in our local areas.
Many thanks
Ad. Article continues below.
Rebecca (founder of Starts at 60)
———————————————————-