How The Wolfe Brothers dealt with sad personal losses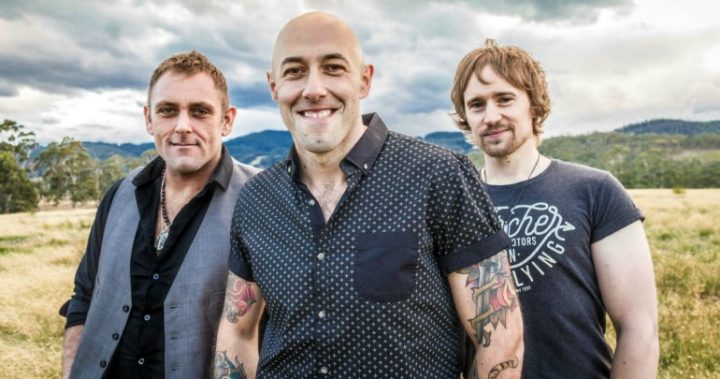 Talk about This Crazy Life. It might be the name of the latest album by The Wolfe Brothers, which reached Number 1 on the Country Music Channel, but it also sums up their career so far.
Many of us were first introduced to the Wolfe Brothers when they were runners-up on the 2012 series of Australia's Got Talent. But the band members, Nick and Tom Wolfe, plus best mate Brodie Rainbird, haven't stopped writing and performing since then.
Tom Wolfe took time out from working on the family's Tassie farm, sorting out a fallen tree in the rain, to talk to Starts at 60. He lives on the farm, which has been in the family since 1899, with his wife, while his mother lives close by and an uncle just down the road.
"It's nice to go out on the road, and travel, but it's always nice to come home," Tom said.
Ad. Article continues below.
But life on the farm was not the only musical inspiration for these country boys, as he explained. It was his parents, and their very different mix of music tastes.
"Dad was a rock-n-roller, and played in a rock-n-roll band. He loved Creedence, Rolling Stones, Dire Straits, Beatles. They were probably the four big ones we heard growing up in the house. Mum loved '90s country, James Blundell, Dwight Yoakam, Billy Ray Cyrus, Garth Brooks. That's what we were kind of brought up listening to. Then at high school, where we pretty much rebelled, we'd listen to anything that wasn't country."
Yet when it come around to starting a band and writing songs, the lads discovered their natural style was a blend of both their parents – country rock, with a beefier sound.
Ad. Article continues below.
Appearing on Australia's Got Talent was a big break for the band, with Australian's embracing them, even those who didn't normally listen to country music.
"The amount of times we hear 'I never listened to country until I heard you guys'," Tom recalled. "We hear that all the time. It's awesome if we are the act that brings people to this great genre. We are over the moon at that."
He said they came along with no sob story – usually a staple of television talent-show contestants – just a lot of passion.  
"All it is is a bunch of guys who love making music and playing music together. That was it," he said.
Not that the journey has been all smooth sailing on a personal level, with the death of Nick and Tom's dad last November, not to mention relationship woes.
Ad. Article continues below.
"In five years it's been pretty crazy. A lot of highs, a lot of lows. Relationship breakups, a marriage, we lost dad," the 28-year-old said. " There's a hell of a stuff to write about."
While the writing of songs might be therapeutic for the band, they feel it will be same for their fans.  
"We all go through that stuff. People have lots of relationships that fail, people lose parents, people lose loved ones, it's a real thing.  We come from the heart and hope to connect with other people."
The boys joined Lee Kernaghan on his The Bush – 25th Anniversary Tour, and said it was a dream come true to perform with their idol.
"We just get on so well. We have a great friendship, a lot of fun out on the road. Once we were the guys who'd be in the front row [at his shows], raising havoc. It's nice to be working with the man on the other side."
Ad. Article continues below.
They are next headed to the Broadbeach Country Music Festival, on this month on Queensland's Gold Coast, joining stars like America and Kasey Chambers. 
"When you see the posters out and you see where our name sits, it's very humbling," Tom admitted, adding that the Wolfe Brothers first played the free event two years ago and can't wait to do it again. "Broadbeach is going to be really special. It's the type of festival you can really encourage new people to come along."
It's only just the start for the band, however and they have big plans for the future.  
"When we started out we wanted to be Australia's number one country rock band. We're knocking on that door at the moment," Tom told Starts at 60. "We'd love to take it overseas. I think we can. The band definitely has the potential to."
Ad. Article continues below.
There are a few big names in their overseas sights as well, with Keith Urban and John Fogerty high on their list of performers they'd love to connect with. 
That doesn't mean they plan to stop hitting the road for shows in favour of studio work. 
"I'm all about playing live, that's how I get kicks," Tom said. "I love the reaction with the crowd, I love the energy. It's a beautiful thing when you've got the crowd on your side and they just want more. It's like nothing else. It's the best natural drug in the world."
Did you see them on Australia's Got Talent or live on their tours? Do you enjoy their style of music?