William and Catherine laugh and joke around as they go fishing with locals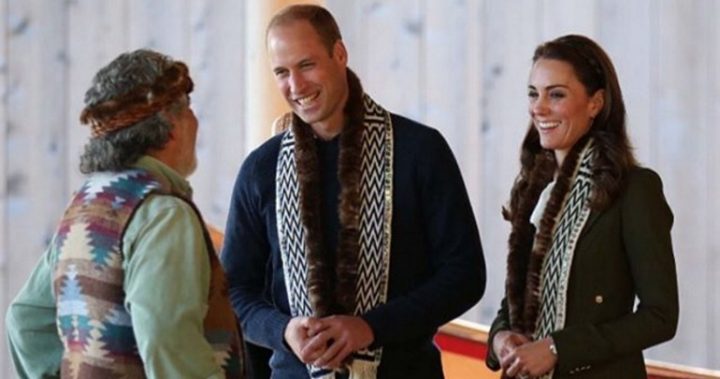 The Duke and Duchess of Cambridge have continued their tour of Canada, paddling in a giant war canoe to meet with locals at Haida Gwaii before taking part in a spot of fishing.
William and Kate climbed into the canoe and picked up an ore each as they helped the 10-man team make their way up the river.
Both appeared to be having a great time and were pictured laughing and chatting with their fellow crew members.
They both dressed a little more casual for the occasion, with Kate sporting a smart jacket and her favourite cowboy boots.
She completed her look with a simple headband to keep her hair out of her face on the breezy day.
Ad. Article continues below.
When they arrived at their destination they were greeted by the locals who welcomed them with open arms and a number of special dances in their honour.
Kate was seen laughing when they told her one was about a young man looking for his princess as they actor popped a wooded frog mask over his face.
Ad. Article continues below.
After the formalities, they chatted with some of the young mothers and seemed particularly taken with the toys the children had.
"George would love those," Kate told one young mother, while William, added: "they don't have much of an attention span though. Your little girl is doing very well."
Ad. Article continues below.
Another mother told them her baby had started teething, to which William exclaimed: "good luck with that!"
Later, Kate changed into a red jumper to keep her warm out of the water as the royal pair joined in on a spot of fishing, casting their lines into the river.
She looked a little squeamish as she picked up a big fish out of the ice box, but laughed it off as William watched on.
Ad. Article continues below.
Tomorrow will be the last day of the couple's tour before they head home with their young children Prince George and Princess Charlotte.
Is it nice to see this side of the Duke and Duchess? Do you think they're enjoying their trip?