Why you'll admire Hugh Jackman even more after seeing 'The Greatest Showman'
Sponsored Content
Entertainment
1 month ago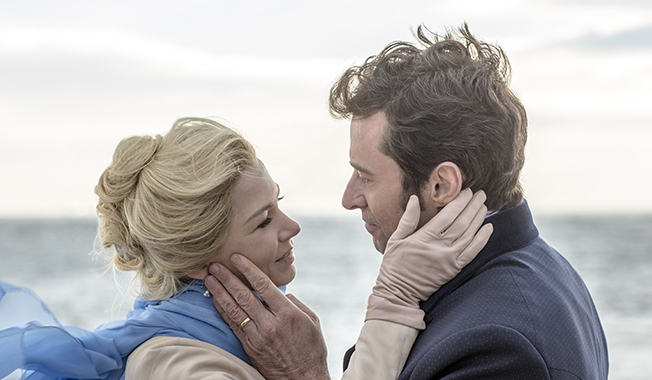 When it comes to inspirational characters that succeed against the odds, Aussie actor Hugh Jackman certainly knows how to pick his roles.
True to form, Jackman will to return to screens on Boxing Day in The Greatest Showman, which is set to be one of the biggest feel-good spectaculars of the year.
The dazzling new musical is a celebration of the power of love, imagination and the importance of dreaming big, in the form of a musical based on the life of now-famous entertainer and entrepreneur PT Barnum.
Jackman stars as the American showman of the 1880s who built a worldwide entertainment phenomenon from nothing, coining the term 'show business' along the way. 
The film takes audiences on a mesmerising journey with Barnum, delving in to the colourful origins of show business and the birth of entertainment industry as we know it today.  
Ad. Article continues below.
Rather than excluding or segregating people for their differences and quirks, Jackman's character shines a spotlight on the things that make everyone unique.
"Every one of us is special and nobody is like anyone else. And that's the point of my show," Jackman as PT Barnum says in one of the many moving scenes of the movie.
"No one ever made a difference by being like everyone else."
Barnum was a risk-taker and expert marketer who, according to the film, transformed those previously shunned by society into unexpected celebrities, confounding those who doubted it was possible.
But dreaming big against the odds is a familiar theme for Jackman, who's inhabited inspirational characters many times over the years.
Ad. Article continues below.
As the central character of Peter Allen in The Boy from Oz, Jackman played the kid from regional Australia who became a global entertainment sensation, while in Eddie the Eagle he was the down-and-out ski jumper who believed the unlikely Eddie could compete in the Winter Olympics and trained him to get there.
Of course, in his long-running character the Wolverine in the X-Men franchise and standalone films, Jackman was always fighting seemingly impossible battles, and even in the children's movie Real Steel, Jackman remains in the same vein, as a former boxer who rises to the challenge of dominating a futuristic, gladiatorial competition.
Jackman himself sees parallels between PT Barnum and the Wolverine – they both have plenty of fight, he told the ABC.
"At the end of the day, [Barnum] would not be told by anybody else. And that's something definitely the Wolverine has. And I've got a little bit of that," Jackman said.
Ad. Article continues below.
The Greatest Showman also promises to make use of the well-honed performance skills Jackman put on display as Jean Valjean in Les Miserables.
Directed by Australia's own Michael Gracey, The Greatest Showman features an all-star cast of incredible singers including Jackman himself, Zac Efron, Michelle Williams, Zendaya and Rebecca Ferguson.
They perform an all-new soundtrack of songs and music created by the Academy Award-winning team behind La La Land, one of 2016's biggest musicals.
There hadn't been a film with original movie music for 23 years when The Greatest Showman first went into production, so audiences of all ages are in for a treat as Hollywood makes an exciting return to the musical genre. (Jackman started vocal preparations two years prior to making the film, then did 10 straight weeks of rehearsal immediately before shooting began.)
The film is also a very different take on the origins of PT Barnum and possibly the first time his story has been told in such an extravagant and memorable way. Even if you don't know much about him, you'll leave the cinema feeling like you have a better appreciation for the art of performance and the things that make you truly unique as a human.
Ad. Article continues below.
It also features a myriad of gorgeous costumes, beautiful sets that will make you believe you're in a different period, and powerful performances that bring this exciting era in history alive.
It's not the first time Jackman has inspired audiences with his choice of roles.
He's publicly admitted that he's turned down massive roles in blockbusters such as the Bond franchise because he didn't feel a connection to the character or storyline.
And it appears the risk has paid off yet again for the Aussie star. The Greatest Showman has already been nominated for three Golden Globe Awards, including Best Motion Picture for a Musical or Comedy, Best Performance for Hugh Jackman, as well as Best Original Song for 'This Is Me'.
The Greatest Showman will open nationally in cinemas on Boxing Day
Are you a Hugh Jackman fan? What's your favourite role he's played? Have you heard of PT Barnum before?