Whoa! Check out Mick Jagger's moves as he rocks out with Taylor Swift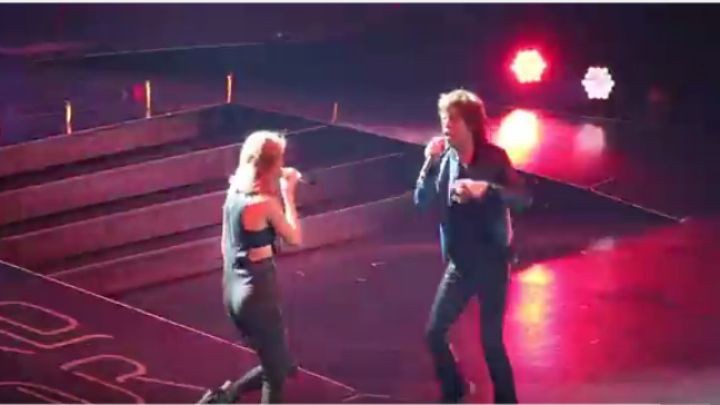 Remember the last time you rocked out to "I Can't Get No Satisfaction" or "I Don't Want To Miss A Thing"? Well, it seems a new generation of singers has cottoned on to what we baby boomers have known for so long. Rock 'n roll is damned good!
Songbird Taylor Swift invited Mick Jagger on stage with her for a duet at Nashville on Saturday. One guess what they sang: "I Can't Get No Satisfaction", the hit we all grew up listening to and gyrating our way around dance floors. Thank goodness there was no Facebook way back then and our dance moves couldn't be captured for the whole world to see the next day!
Young and old fans were overjoyed at the surprise duet by the young singer and much older rock icon and one 72-year-old grandmother rocked out like there was no tomorrow, putting the younger fans to shame.
"Oh my God. Oh, my God," she screamed.
It's not the first time Taylor has shown she isn't adverse to a bit of "old spice" and singing with someone old enough to be her grandfather.
Ad. Article continues below.
Earlier in her tour Taylor was joined by Aerosmith's Steven Tyler to perform the 1998 smash hit "I Don't Want To Miss A Thing," which ended with the two singers dancing together on stage and having a total ball.
Watch the video of Taylor and Mick Jagger or click here to see her with Steven Tyler.
Now, I wonder what happened to the boy I was dating the first time I danced with someone to "I Can't Get No Satisfaction"? It was at a university dance. I can still remember the black dress I was wearing . . .
What's your fondest memory of either song? Have you ever seen Mick Jagger or Steven Tyler live? Share some of  your best memories here.