Who better to farewell David Letterman?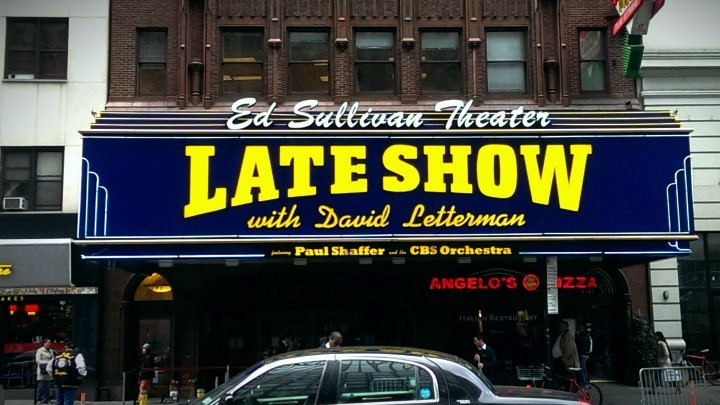 Letterman invited to the chair the first ever guest to appear on Letterman's Late Night show in 1982: legendary comedian Bill Murray.
The Ghostbusters star, to his credit, did his best to steal the limelight, smashing his way out of a giant cake and smothering his mate in an icing-covered bear hug emblazoned "Goodbye Dave".
Wearing protective goggles and overalls, Murray lovingly rubbed cream into Letterman's suit and hair, then proceeded to chug vodka as the Caddyshack references flew.
Ad. Article continues below.
The two comedians have enjoyed many shenanigans over the years. As you can see by these photos, Murray likes to make an entrance!
Just hours after the penultimate show, Murray appeared on live chat show, MSNBC's The Last Word apparently drunk. "I just did the Letterman show, then went to dinner, had oysters, rosé wine, red wine, and duck, and red wine," Murray mumbled to host Lawrence O'Donnell. He struggled to find his footing, fell back onto the floor, and managed to break the chair.
With one more gala-style show to come tonight, Letterman will end his 33-year career as a talk-show host. Some of the biggest names from the show will make an appearance, including Tom Hanks.
Ad. Article continues below.
Bill Murray has appeared on The Late Show many times, once dressed as Peter Pan, once as Liberace. He has jumped into dumpsters, covered Whitney Houston's "I will always love you", and generally had a great time.
Watch the first ever interview below:
Ad. Article continues below.
Tell us: were you a Letterman fan? Will you be sad to see him go? Share your favourite moments!