Which princess rocked an eye patch at Buckingham Palace?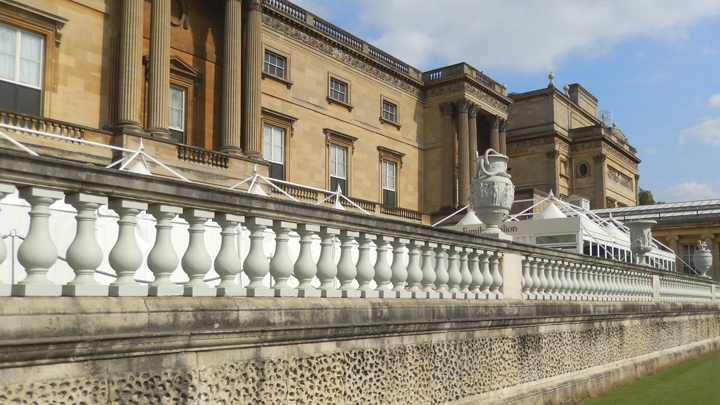 One doesn't expect to see pirates on the lawn of Buckingham Palace so you would have been forgiven for doing a double-take at the Buckingham Palace Garden Party yesterday. Amid the 8000 guests and Yeoman of the Guard was a princess wearing an unusual accessory.
Princess Michael of Kent, who recently underwent surgery on her left eye, sported a black eye patch, which she somehow managed to make look classy teamed with an elegant monochrome jacket and skirt, large-brimmed hat and pearl necklace.
The Czech-born princess is married to Prince Michael of Kent, grandson of King George V and cousin to the Queen. Princess Michael is an interior designer and author and is known to her friends as Marie Christine.
Ad. Article continues below.
The Queen and the Duke of Edinburgh hosted the garden party. They were joined by Princess Anne, Princess Beatrice and Duke and Duchess of Gloucester.
Prince Andrew's 26-year-old daughter Beatrice doesn't make many official appearances, however the Express newspaper reports she has received criticism recently for undertaking 15 holidays in seven months, so perhaps she thought a tour of the lawns might improve her situation.
The Queen went for a simple cerise dress coat and matching hat. But the winner on the day was surely Princess Anne, who looked stunning in a lime an lavender A-line outfit.
Ad. Article continues below.
The Queen hosts at least three at Buckingham Palace each year as well as one at the Palace of Holyroodhouse in Edinburgh for more that 30,000 people. garden parties are among the most relaxed and informal Royal events with tea, cakes and beautiful gardens to stroll about in.
Ad. Article continues below.
Garden parties have been held at Buckingham Palace since the 1860s when Queen Victoria instituted what were known as 'breakfasts' (though they took place in the afternoon). In the 1950s the number of garden parties held at Buckingham Palace was increased from two to three a year. They have evolved into a way of rewarding and recognising public service and attended by people from all walks of life.
Tell us: what's your Garden Party style? (And feel free to share your best pirate joke, too!)