What happens when your favourite thriller characters join forces?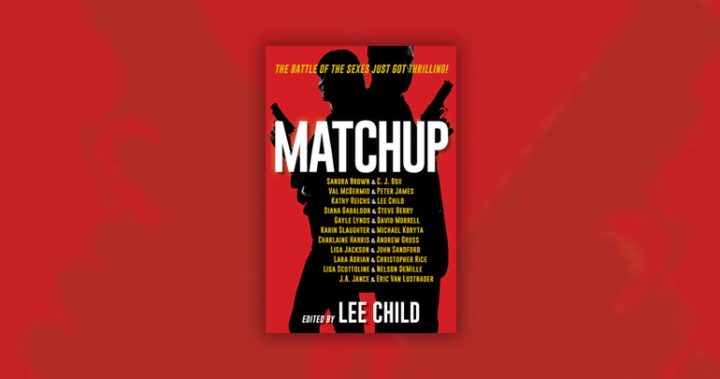 Match Up (edited by Jack Reacher author Lee Child) pairs together twenty-two of your favourite crime writers in this unique short-story collection.
The first anthology of this type of collaboration, Face Off combined the talents of Ian Rankin with Peter James, Patrick Kenzie with Michael Connelly and Lee Child with Nick Heller. Another feast of crime thrillers for fans to indulge in, Face Off was edited by David Baldacci, one of my favourite crime writing authors. After reading Match Up I will be looking to acquire a copy of Face Off.
Some of the pairings in Match Up are:
Diana Gabaldon and Steve Berry

Lisa Scottoline and Nelson DeMille

Kathy Reich and Lee Child

Val McDermid and Peter James

Karen Slaughter and Michael Koryta
Eleven short stories in total.
Ad. Article continues below.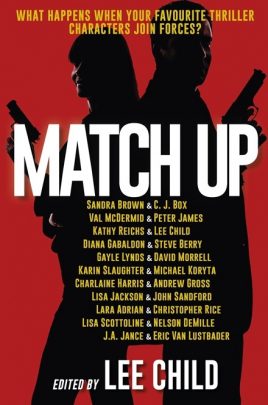 Not being a fan of short stories and unfamiliar with this concept of writers banding together to combine their talents for the enjoyment of its readers, I was intrigued to start reading. Of the eleven stories in this generous anthology (437 pages) most were enjoyable and easy to read.  Perfect for bedtime, one story a night, if you can stop at one that is. Bearing in mind these are supposed to be short stories, I would have liked some of them to have continued further. Some of these tales were shorter than others and all had satisfying endings.
The match up with Kathy Reichs and Lee Child Faking a Murder made for an interesting read. The collaboration between the two proved seamless and incorporated both Lee Child's Jack Reacher character and Kathy Reichs Temperance Brennan.
Val McDermid and Peter James likewise banded together and created a murder mystery Footloose, which reflected both their styles and led to a gritty and absorbing story. Both characters in this tale will be familiar to readers of both authors. Val's characters are Detective Carol Jordan and psychological profiler, Tony Hill. Peter James contributes his iconic character. Detective Superintendent Roy Grace.
Diana Gabaldon and Steve Berry's story Past Prologue begins in the present and takes us back to the past in an unusual way. This is also a good and different read from the previously mentioned offerings, but nonetheless interesting and enjoyable.
Ad. Article continues below.
Karen Slaughter agreed to be part of this anthology provided she could work with Michael Koryta and the story would be set in the 1990's – hence Short Story was born. Karen wanted to provide a look at Jeffrey Tolliver as a young man from 1993 and Michael hadn't written about Lincoln Perry or Joe in eight years and he was keen to write from Lincoln's point of view.  This is one of the best in the book.
Lisa Scottoline was keen to pair with Nelson DeMille and so this team also contributed a satisfying and enjoyable read in Getaway. Lisa's Bennie Rosato is a tough-as-nails Philadelphia lawyer, while John Corey is a former NYPD homicide detective and both characters are reluctantly thrown together in this plot.
While I enjoyed some stories more than others, I can recommend this collaboration as a change of pace, a different concept (for me at least). Anyone wishing to explore another form of crime writing by respected authors will enjoy this anthology. Personally, I still have a preference for a complete novel but am now more in favour of the short story concept.
Match Up (published by Hachette Australia) is available now from Dymocks. Click here to learn more.