What caused Kerri-Anne to storm out of ACA interview?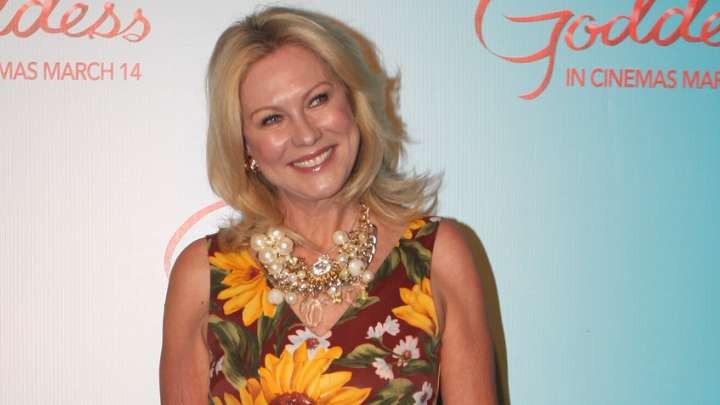 Kerri-Anne Kennerley, who is usually so well-composed and graceful has been shown politely storming out of an interview with A Current Affair.
The veteran TV presenter looks stunning in a yellow suit, but her face turns stern as she hold up her fingers to the interviewer and says, "I don't want to talk about it".
Ms Kennerley then exits the scene, apparently quite put-out.
The show is to be aired tonight and, quite frankly, it wouldn't surprise is if the whole thing is a beat up.
ACA has released this clip from the interview, which really tells us nothing at all. Perhaps Ms Kennerley had a frog in her throat and needed some water?
Ad. Article continues below.
The Daily Mail speculates that the "tense reaction" might be a reference to the presenter pulling out of a recent Trafalgar trip to Russia.
Ms Kennerley was supposed to accompany a tour group on the trip, but cancelled. Presumably, she was one of the star attractions, alongside the Kremlin and The Open at St Andrews, the home of Golf. There are rumours she got a better offer, namely the opportunity to appear on the new season of The Celebrity Apprentice as advisor to the big boss, Mark Bouris.
Ad. Article continues below.
The former host of Good Morning Australia has been open about the trials and tribulations of being an older woman in today's media.
Speaking to Daily Mail Australia earlier this year, she opened up about dealing with the hardships many face in the cut-throat entertainment industry.
'There have always been people who can be mean, be cruel, be nasty, you've just got to put your blinkers on and go forward,' she said.
Will you tune in tonight to see what (might have) got Kerri-Anne in a tizz? And if she did ditch her travel commitments for a better offer, do you think she did the right thing?