We're launching Starts at 60 Events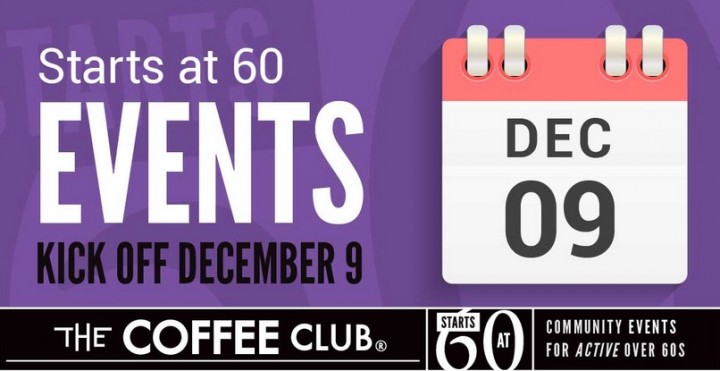 We've been working hard here at Starts at 60 to bring you a media site that you love, and to provide interesting conversations among over 60s all over the country, every day.  Today we are pleased to be able to announce that we are taking it one step further and are kicking off monthly events "Starts at 60 Coffee Meetups" in conjunction with The Coffee Club.   On the second Tuesday of every month,  Starts at 60 community now have the chance to come together in a select number of The Coffee Club stores all over Australia.
The events are FREE to attend, all you'll need to do is buy your beverage or snack of choice when you get to The Coffee Club, put on a nametag and join the conversation.   Our first events kick off on the second Tuesday in December, Tuesday 9th December in Sydney, Melbourne, Perth, Adelaide, Brisbane and the Gold Coast.  Numbers are limited for each store, so we need you to RSVP using our online event booking system to secure your place.
To find the event nearest to you CLICK HERE.  You'll  need to:
1) sign up as a "member" of Starts at 60 to see and RSVP for the events  – membership to Starts at 60 is free!
2) Then select the event you want to attend and request your ticket online.  You will need to get in fast!
Ad. Article continues below.
3) If the tickets are sold out in your nearest location, or there is no location near you, please fill out the expression of interest form on the bottom of the events page and we'll see if there is enough interest in getting another group together in your area and work with The Coffee Club to set it all up.
We are excited to bring Starts at 60 members together, and can't wait for you to meet each other.  And we look forward to your feedback.