We were the first renovators...so why are we never on The Block?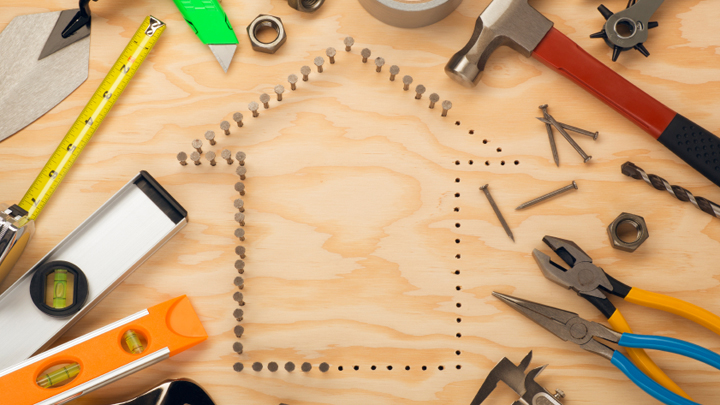 Turn on the TV and it almost feels as if reality shows have taken over – there isn't a way to avoid them unless you want to sit in silence at 7pm! One show that has become incredibly popular over the years is The Block. The Block wins the ratings in every demographic, every night of the week, all for its simple premise: couples battle it out to renovate the best unit or house, as decided by judges. It's not a genius sort of concept, but boy is it working! The only problem is, there's a distinct lack of wise talent in the selected couples. Read: they're all in their 20s or 30s.
Despite Channel 7 insisting that they are happy to audition couples from ages 18-65 (applications for late 2015 are still open now), yet our demographic is nowhere to be seen in the latest series, Triple Threat. The closest we get is Tim, from Adelaide, who is 40. With any luck, the next series will have a couple with a 50 year old, at the very least, but that seems to be wishful thinking.
When the kids were young, we were constantly fixing up our house. It was an old weatherboard shack when we bought it, with only two bedrooms. We spent about 15 years converting the long driveway into a rumpus room extension, adding another bathroom, large deck, plus a granny flat out the back. We absolutely loved renovating and now we can enjoy the years of labour and love we put into it. My dad always told me he hated building and would happily live in his shoebox house without ever thinking to capitalise on the property he had. Eventually, it was sold and the new owners absolutely transformed it. They, along with us, were the first renovators.
Ad. Article continues below.
We were the first renovating generation. We loved a fixer-upper, and we created the term 'renovator's dream'. We would spend weekends away at the hardware store picking out tiles and paint chips. We loved looking off our half-made deck and seeing more potential in our yard. We added pools to big blocks of land, and we put another storey on top of a house because we knew there was a view. We coined the term 'reno' and said it for 20 years when we needed an excuse not to go to a family event.
Every now and then I'll see a house that has been untouched for years and years, including this one which is currently on the market in Sydney. It has remained in its original condition for 100 years! I'm sorry, but I wouldn't have had the patience to let the ceiling fall out of my house. Creating something new from something old was what I believe we passed down, and what created the generation we see now who transform homes constantly and sell them for hundreds of thousands more than they bought them for. Essentially, our generation created The Block! So why can't we feature on it and show them how it's done? We wouldn't need all of those labourers either, we'd be happy to get stuck into the work without the drama.
What do you think? Do you think over 60s show appear on The Block or should we leave it to the younger generations? Tell us below.