Watch: you'll never guess Pierce Brosnan's new ride!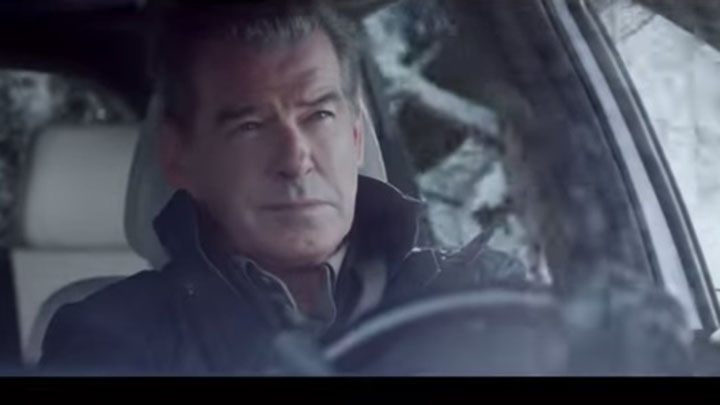 Pierce Brosnan, who is most famous for his role in James Bond, is driving a whole different kind of getaway car in a new advertisement coming to Australia.
The ad, which aired during the 2015 Superbowl, pokes fun at the classic James Bond role. We all know Pierce for his role as the ultimate action-adventure hunk but as his agent pitches him a new role, you can't help but laugh at how anti-Bond this role actually is. It has no missiles, snipers, speeding or explosions. Every expectation Pierce has is disappointed. He will simply be driving a normal car through the mountains like any other normal person. It's a far cry from the flashy cars he is used to in his various action film roles.
The 62-year old learns he won't be driving a Bugatti but instead a modest and reliable, Kia Sorrento.
"What's the mission?" he asks.
Only to discover: "There is no mission", said the agent.
Ad. Article continues below.
Pierce will have to settle for calming encounters with natural beauty and wildlife driving through the snowy mountain side. Though the role lacks the classic Bond features, the advert ends with a classic Bond ending – can you guess what is it?
This ad proves Pierce can be sexy, even in a Kia. He may not be ripping through the streets in Tomorrow Never Dies or Die Another Day but he certainly looks as dashing as ever. This isn't the first time we've seen Pierce branch out from his Bond role. Do you remember the film adaption of the ABBA musical, Mamma Mia? Pierce looked darn good in that too, though he might need to brush up on his singing!
This ad will be airing on Australian television soon!
Watch the ad below and tell us what you think! 
Ad. Article continues below.
Are you a Pierce fan? Who is your favourite James Bond? Does this make you want to buy a Kia? Share with us below!