Watch one man perform a 70 piece orchestra by himself!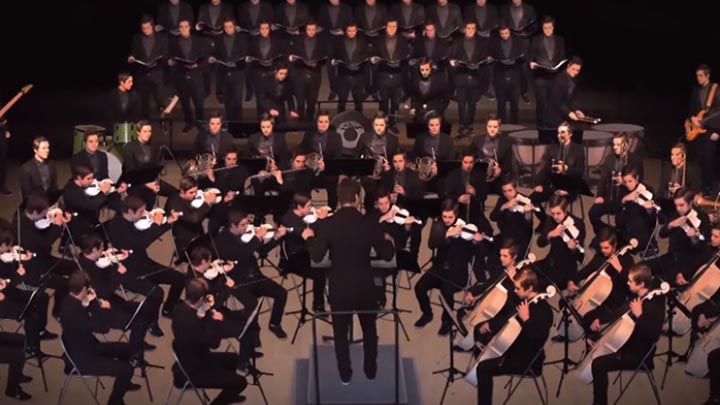 We can't work out whether this is extremely cool or a display of extreme boredom – either way, it's impressive! 24 year old Ben Morfitt from Hull in the UK has spent over one month performing every instrument in a 70 piece orchestra. He filmed all of the 70 performances, digitally edited them to merge together as one giant 3 minute, 22 second video.
Essentially, he is performing an entire orchestra performance by himself!
According the the Hull Daily Mail, he filmed the orchestral piece in an empty concert hall at the Abermale Music Centre for the basis of the video and then performed each instrument on a "green screen".
"It took a full month to film," Morfitt said. "I used about three-and-a-half hours' [worth of] footage for the final piece, and there's about ten times that in outtakes."
It has a ridiculously random end – with all 70 versions of Ben turning to the camera and flipping it the bird – God knows why, perhaps being 24 has something to do with it! But all in all, it's quite a talented effort!
Ad. Article continues below.
So watch it below for some light entertainment this evening and tell us, is this madness or pure talent?