Watch Lady Gaga's stunning cover of Imagine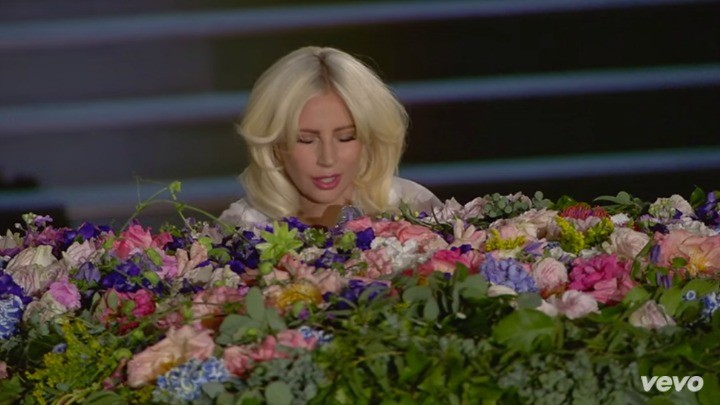 As part of the opening ceremony of the 2015 European Games, pop star Lady Gaga has delivered a beautiful performance of John Lennon's Imagine. 
Wearing a flowing white gown reminiscent of Greek goddesses of days gone by, Ms Gaga sat at a grand piano heaped with flowers and poured her heart into the song.
The huge crowd fell silent, clutching their lights and listening to the opening strains of the piano, then Ms Gaga's soft and powerful voice rising to operatic heights in some sections of the song.
This is not the first time the pop star – arguably more famous for her outrageous outfits than her considerable talent – has dipped into a classical style to perform a timeless song.
At the 2015 Oscars, Ms Gaga celebrated the 50th anniversary of the release of The Sound of Music, singing a medley of of songs from the film. Her performace was widely regarded as the highlight of the awards ceremony, garnering the ultimate form of praise from Julie Andrews.
Ad. Article continues below.
The European Games are being held in Baku, the capital of Azerbaijan, which neighbours Georgia, Armenia and Iran and was once part of the Soviet Union.
We think Lady Gaga has done a stunning job of covering this song and John Lennon would be proud to hear it. We particularly love the aptness of the peace sign tattooed on Ms Gaga's wrist, which can be seen towards the end of the song as she wishes the crowd and athletes the best for the Games.
More importantly, the person closest to John Lennon approves of Ms Gaga's performance, as Yoko Ono tweeted:
Thankyou @ladygaga for singing IMAGINE so beautifully at the Opening Ceremony of @BakuGames2015 https://t.co/Asy1Ndrs1U love, yoko

— Yoko Ono (@yokoono) June 15, 2015
Ad. Article continues below.
Watch the video and tell us what you think!
Tell us your thoughts on Lady Gaga's performance. Has she done it justice?