Video of baby enjoying a hairwash causes social media frenzy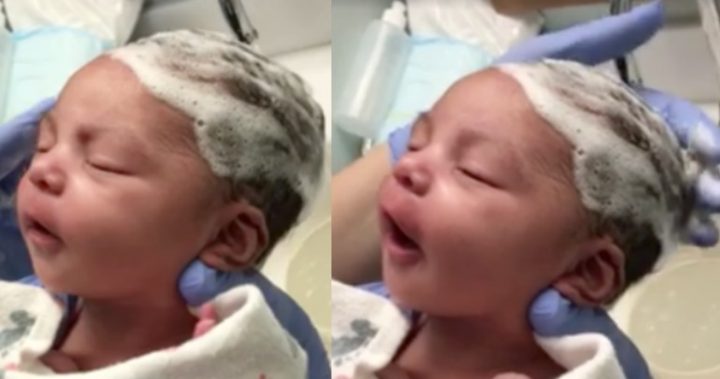 A precious video has been making its rounds around Facebook, not once but 22 million times, and it is reminding us that the simplest things in life are often the most beautiful.
On Saturday, Taveon Glenn shared a video of his newborn daughter getting her hair washed. As the gentle hand strokes baby Amira's head, massaging her hair with shampoo, you can see she is in total tranquility. 
Baby Amira's face as she feels the suds and water is pure bliss, and the two and a half minutes are totally mesmerising.
Considering that the video has been viewed over 22 million times, it's clear others agree.
Mary Horne said, "She's so beautiful and appeared to be totally content!"
Ad. Article continues below.
Ret Cudmore said, "This baby is in 7th heaven…the way they wished her hair. Pure bliss!"
Debra Searcy Dean said, "What a beautiful sweet baby! She's enjoying every minute of that hair washing!"
Some even wished they had the nurse's job and that the video reminded them of the time when they washed their kid's or grandkid's hair. 
Glenn told The Huffington Post he did not expect the overwhelming response. "I just thought it was a cute video I should show my family and friends," he said.
"I think it went viral because so many people like babies. It touched many hearts and even gave lots of people 'baby fever,'" he added.
Ad. Article continues below.
And it certainly did. Another Facebook user, Nicole Sicuro Leipski said, "Just saw this. So sweet. God bless you and your family – you have much to be thankful for – what's beautiful sweet face – an angel!"
Others love the video so much that they've nominated it to be featured on Ellen. 
Try not to smile or go "aww" when you watch this video of baby Amira getting a hair wash…
Does this video remind you of the old days when you washed your baby's hair for the first time?