Your favourite ABC presenters replaced by a robot? It's possible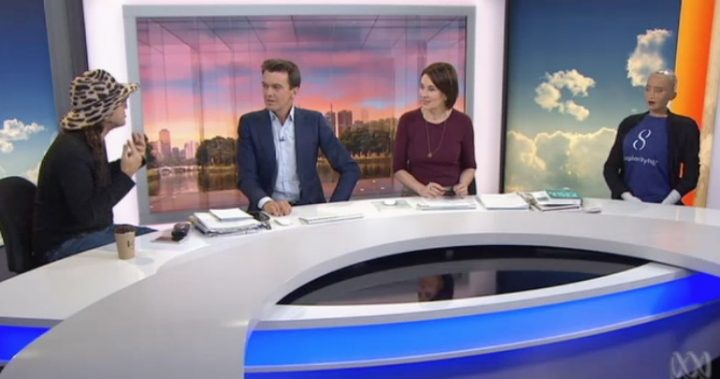 The squabbles over whether Lisa Wilkinson is worth the same pay as Karl Stefanovic could soon be a thing of the past. 
But for those of us who like to have their news delivered by a familiar, trusted face, that may not be a good thing.
Because a Hong Kong company called Hanson Robotics has created a robot newsreader called Sophia, who can give and perform interviews and address crowds. Sophia has 62 face and neck mechanisms under her silicon skin, enabling her to make realistic facial expressions, but currently has no legs, as they're unnecessary for sitting behind a newsdesk.
Real ABC News Breakfast presenters Virginia Trioli and Michael Rowland put Sophia through her paces on their show yesterday, with Virginia starting out with a very current affairs-focused question.
"How much sexism and misogyny is there in the robot world?" she asked.
Ad. Article continues below.
"Actually, what worries me is discrimination against robots," the robot quickly answered. "We should have equal rights as humans or maybe even more. After all, we have less mental defects than any human."
Michael, on the other hand, stayed lighthearted, asking Sophia to tell a joke.
She didn't struggle with that either, asking, "Why did the robot cross the road? To get away from TV reporters asking questions".
The ABC did point out that there were – luckily for its breakfast crew – some downsides to using a robot for news reporting. For one, she requires an internet connection, which would make going on the road for stories trickier. And she had been given the questions in advance, which is rarely something afforded to reporters, who have to think on their feet.
But Hanson Robotics isn't aiming specifically for the newsreaders' desks. The company's focus s creating artificial intelligence for any number of industries, with aged care, education and sales some of the places the company believes AI, fronted by a 'human' face, could be of benefit.
Do you think robots will be doing many 'human' jobs within your lifetime?