Video catches Tom Jones thrilling TV audience with surprise song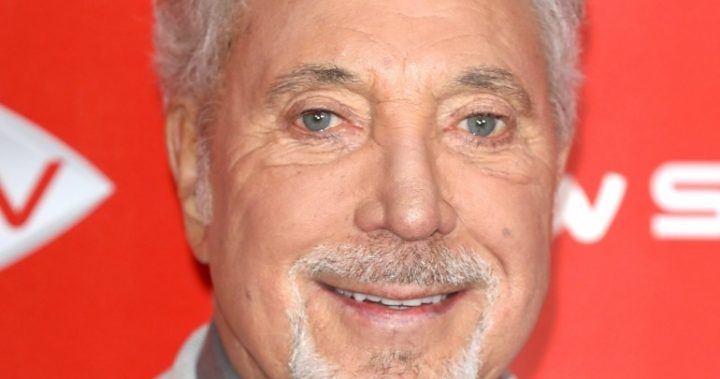 The studio audience at a recent filming of the British version of The Voice got an unexpected bonus – an up-close-and-personal gig from Sir Tom Jones!
The veteran entertainer had the crowd on its feet with a rendition of one of his biggest hits, 'It's Not Unusual', with the 77-year-old looking like he's completely recovered from his recent hip replacement as he stood up to give the audience a better view, even doing some gentle hip gyrations.
Even the fellow stars on the panel – the show has expert showbiz experts choosing a team of amateur singers, who they pick in blind auditions, in the hope of winning the competition – looked thrilled to see Tom's performance, with US singer and Oscar-winning actress Jennifer Hudson, Black Eyed Peas singer Will.i.am and UK talent show star Olly Murs pulling out their own mobile phones to film him singing.
Ad. Article continues below.
And it appears the legendary lothario has lost none of his charm. When Murs' mother Vicky-Lynn visited the show to watch her son working as a judge, she reportedly jumped at the chance to meet Sir Tom, and he was quick to oblige with enthusiasm, surprising fellow judge Murs by giving his mum a big smooch on the lips.
"My mum's going to be so jealous," Vicky-Lynn exclaimed, as her shocked son shouted, "Hang on a minute! That was a kiss on the lips!".
Sir Tom had a hip replacement in September, forcing him to cancel a US tour, but since then he's been back in top form, telling the Express in January that he was back to his active self, walking up to five miles every day and taking cross-training classes.
The Welsh crooner did admit to one small bit of comfort on the set of The Voice, though, saying that he liked to have a cushion on the big red swivel chairs the judges used to shield their view of the contestants, saying that he needed it to stop him slouching back. 
Ad. Article continues below.
Well, after all this time, it's probably no surprised that he feels perfectly comfortable in the spotlight!
Have you seen Sir Tom Jones perform live? Would you like to? What's your favourite song of his?