'This looks familiar': BBC calls out Today show over promo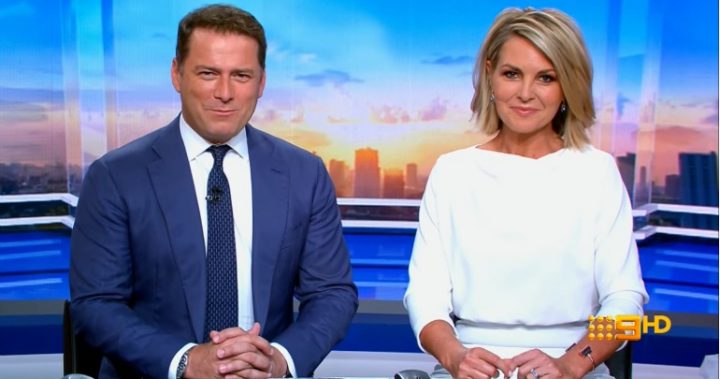 They say imitation is the sincerest form of flattery, but Channel Nine may have taken it a little too far this time.
The BBC has accused the broadcaster of copying its breakfast show promotion advert, with a comparison video showing the striking similarities between the two a BBC Breakfast promo and a Today promo.
BBC Breakfast shared the clip on Twitter, writing: "This looks familiar!!!". The video cuts between the BBC's version and Today's version with many of the frames and even the dialogue a near-perfect match.
In Nine's version, co-hosts Karl Stefanovic and Georgie Gardner greet each other before extending a warm "good morning" to a mum watching from home. "Good morning, Georgie … Morning, Karen," Karl says. "Headlines are coming up … Jack, your toast is burning," he adds to her teenage son.
The BBC version, hosted by Dan Walker and Louise Minchin, does almost the exact same.
Ad. Article continues below.
???? We thought this looked familiar!!! ???????? pic.twitter.com/tiZuDaCQVE

— BBC Breakfast (@BBCBreakfast) January 19, 2018
"Good morning, this is BBC Breakfast. Good morning Dan — morning Jenny!" Louise says before greeting a woman watching their show from her kitchen. "Headlines are coming up … Jack, your toast is burning," she adds.
While the BBC appeared happy to have a laugh at the similarities, viewers quickly took to social media to air their grievances, with one cheeky Scotsman taking a swipe at Australia's criminal beginnings.
"Australian's stealing stuff? That's a surprise, it's not as if it was colonized by criminals or something," he joked sarcastically.
Ad. Article continues below.
Even Australia's neighbours across the ditch took to opportunity to have a go at them. "Get use to it, as often as the Aussies have stolen actors, horses, food and/or anything original to New Zealand over the years, this is not a surprise," one New Zealander wrote.
Aussies quickly hit back though, proving they're able to have a laugh even when being hounded by the rest of the world. "Look, you have to understand, you chose to send all your convicts over to our country. Why then would you not expect the stealing of your idea?" one Australian joked.
A Nine spokesperson told nine.com.au in a statement the promo was no longer running.
"The promo ran for a short period over the summer period and hasn't been on air for more than two weeks," he said.
Karl and Georgie are expected to be one the air together by February. Georgie was picked as Lisa Wilkinson's replacement after the former host spectacularly quit the show last year over a pay dispute.
Do you think the promo is a blatant rip off? Or perhaps just a coincidence?