They were funnier in the '50s! Hit series takes a hint from I Love Lucy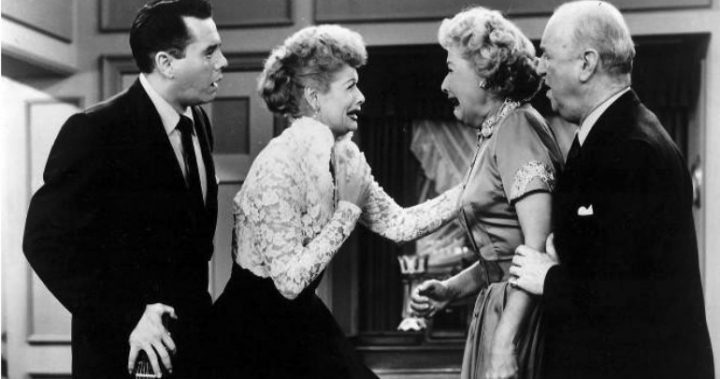 Any Baby Boomer who's streaming the new series of Will and Grace will notice that one scene in an upcoming episode looks strangely familiar.
That's because the hit show has taken inspiration from a classic scene from 1950s series I Love Lucy.
In the new Will and Grace episode, Grace, played by Debra Messing, and her friend Karen, played by Megan Mullally, get locked in mega-rich Karen's 'smart shower' and can't work out the high-tech controls, which results in the shower cubicle filling dangerously with water as they struggle to get out.
The producers used some high-tech sets of their own to create the scene, the New York Post reports, including a custom-built shower cubicle 'tank' built by the stars of the Animal Planet's freaky aquarium show Tanked.
It's unlikely the 60s' producers of I Love Lucy had any such tech to use when they made the original version of the scene, in an episode in which Lucy, played by the beloved Lucille Ball, and her friend Ethel, played by Vivian Vance, decide to install a shower. Like Grace and Karen, the two get stuck in  a rapidly filling cubicle – albeit one far smaller than Karen's – after they miss several vital plumbing details during the installation.
Ad. Article continues below.
I Love Lucy ran from 1951 to 1957 in the US, then as a series of specials from 1957 to 1960, making it one of the best and most influential sitcoms of all time.
Will and Grace has had similar success, with a run from 1998 and 2006. It returned on September 29 in the US and in Australia (via the Stan streaming service) after an 11-year break, with all four key cast members – Eric McCormack as Will and Sean Hayes as Jack make up the foursome – agreeing to reprise their roles.
NBC, which has made the new series, has already agreed to make a second season of the rebooted franchise.
Were you a fan of I Love Lucy or Will and Grace?