'The Killing of a Sacred Deer' is a dark drama with an unsettling twist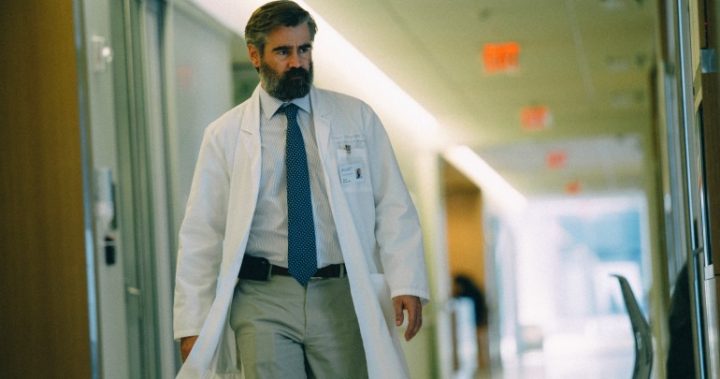 Director Yorgos Lanthimos obviously wants us downright uncomfortable from the beginning of the film, The Killing of a Sacred Deer. This is obvious from the opening scene as the music of Schubert accompanies a close-up look at an open-heart surgery, and continues throughout the awkwardly stunted conversations and speech patterns as we get to know the characters.
Ad. Article continues below.
A terrific Collin Farrell plays surgeon Dr Steven Murphy, Nicole Kidman is his wife Anna (an ophthalmologist). Together with their children, 14-year-old Kim (Raffey Cassidey) and 10-year-old Bob (Sunny Suljic), the Murphys are well-to-do. At the dinner table, they're unfailingly well-mannered with each other. They are a perfect family and perfectly boring, until little cracks start to show.
Martin (Barry Keoghan) is a shy, polite teenager who we meet having an obscure conversation with Dr Steve. They seemingly have a history, but it's initially unclear if it's a sexual relationship or a substitute parent/child arrangement. The script gives us little bits of information until we discover that Martin's father died on Steve's operating table.
Martin ingratiates himself with the Murphy family. He becomes Kim's boyfriend, and he invites Steve to his own home to meet his Mum, who is single and "needs a man". From then on this film takes a very disturbing and violent turn.
The Killing of a Sacred Deer is a film that's definitely not for everyone. The nature of this film is nothing short of unsettling. There are some uncomfortably laugh-out-loud satirical moments, and touches of horrific violence. It's intended to make you squirm and question what it is that you are watching.
If you can stand offbeat, unemotional, but very interesting dialogue mixed with dark comedy and absurdity, this might be right up your alley.
ROK'S RATING: 3.5 glasses of bubbly