The hilarious Christmas video that all Aussies will relate to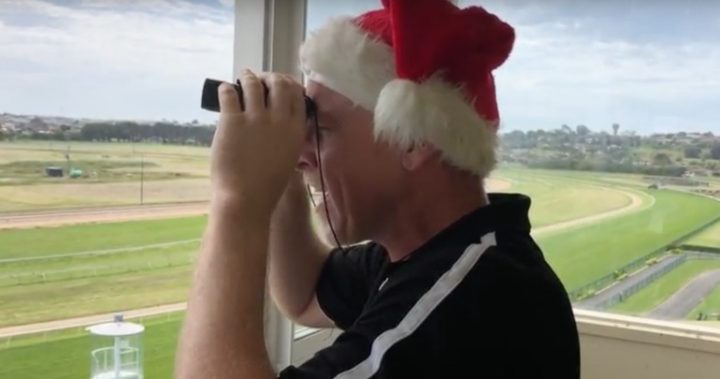 The silly season is finally here and there are plenty of great videos doing the rounds on the internet that are full of festive cheer.
But this one may beat all, at least for plenty of Australians, who'll identify the many Christmas rituals it skewers.
Victorian Jon Vertigan, who's a DJ on 882 3YE, uploaded the unique and very funny clip to YouTube celebrating the best (and worst) of an Aussie Christmas. In the style of a race call, the radio host mentions the many things that will be all too familiar to most Australians.
It's been such a hit that today's episode of Sunrise dedicated a whole segment to it.
Ad. Article continues below.
"They're loading the last of them in now for the Christmas Day Family Cup," Vertigan explains as he looks over a racecourse wearing a Santa hat, using events and family members as horse names.
"Late scratching at the barrier here. Brother-In-Law is out because he's going to his family's for lunch. He might come around for tea, we'll see.
Read more: Hilarious Air New Zealand Christmas video goes viral
"Socks and Jocks gets another go this year, and I Need a Nanna Nap, popular with the older punters."
He explains how "Uncle Kevin's Smashed goes straight to the front, with Too Much Champers" and references the "Over-Opinionated Sister-In-Law" that most families have.
Ad. Article continues below.
Vertigan continues: "Next on the rail, Too Much Michael Bublé Music, with I Forgot to Put The Turkey On."
Race favourites include Esky and No Batteries Included. Other hilarious Aussie traditions he references include bon bons and the left-over ham that nobody eats. He also pokes fun at the people who literally never help with the dishes at Christmas  – we all know who they are!
Read more: Remembering the Christmases of our childhood
In the past, the father has posted his unique videos to poke fun at everything from his teenage kids to Easter and even Australian morning TV shows. 
Ad. Article continues below.
Fans flocked to social media to praise the video.
One person wrote: "LOL. Typical of many Christmases!"
Another message read: "This is actually so funny and great."
A third added: "Very funny. I can relate to it a lot."
What did you think of the clip? Does this sound like your family at Christmas?