'The Chase' host in stitches as guest breaks chair then 'farts' on air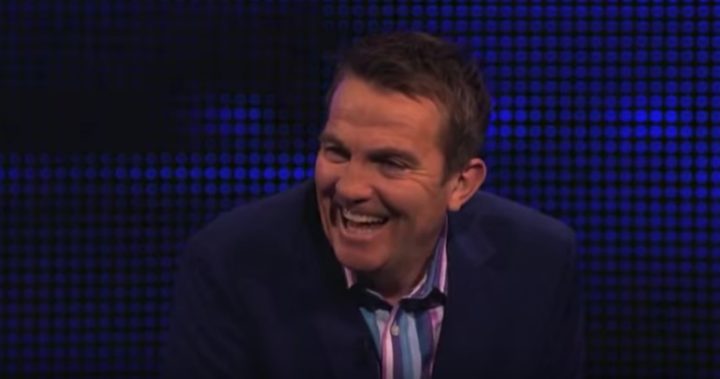 The Chase has had its fair share of awkward and hilarious moments over the last few years, with host Bradley Walsh at the centre of them.
And one classic outtake clip, shared by the show's official YouTube account, has continued to go viral ever since it was first filmed in 2015. In it, Walsh collapses in fits of laughters after one of his contestants appears to let her panic get the better of her.
Janice was up against Chaser Mark Labbett, and managed to keep her cool spectacularly – eventually winning the final question in the tense round. Unfortunately, it went rapidly downhill from there.
As she stepped back to join her teammates, she accidentally managed to break her chair. While the moment happened off camera, viewers heard an almighty crash as it fell, with Walsh joking: "Are you alright there? Just destroying the set."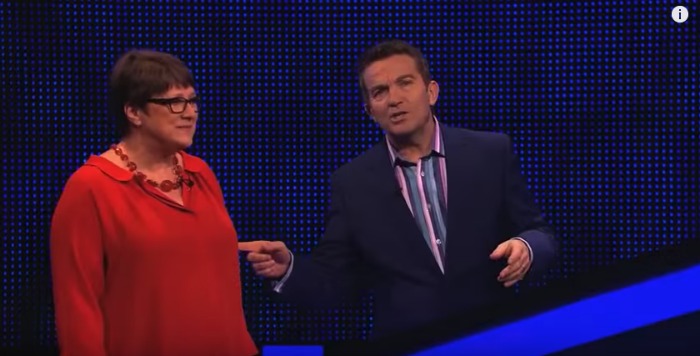 As she bent to pick it up, she appeared to accidentally pass wind – leaving Walsh in a desperate battle to keep his composure as he burst into silent giggles. 
Whether the sound was really that, or an unfortunate noise on set, was never confirmed. Either way, the red-faced guest managed to keep her cool as she stepped back up again.
Many viewers claimed the noise was actually fake, with one person commenting: "That fart sounded false.," while another added: "Don't get why they edit these out? It makes it more funny I think. And don't they hear the music we here on TV."
Ad. Article continues below.
It's certainly not the first amazing reaction by Walsh. He previously lost his composure when a bird enthusiast was eventually asked: "A lammergeier is a species of what bird?" He couldn't resist reciting a list of facts and knowledge, much to the audience's bafflement.
Read more: Best reaction yet? Chase host explodes with laughter at bird fanatic
As he continued to speak – backing up his answer that it was a type of "vulture" – Walsh was seen going steadily red in the face as he fought to contain his fits of laughter.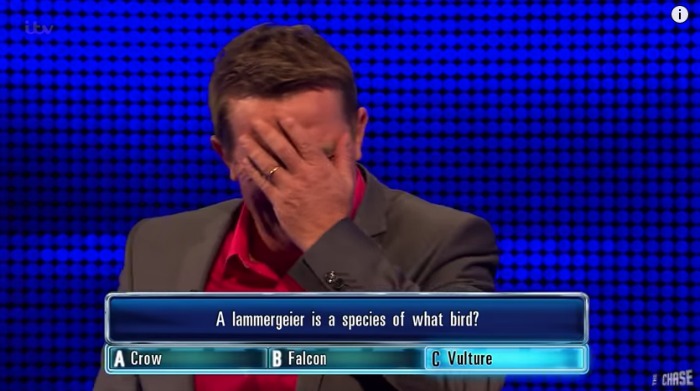 Eventually he exploded in hysterics, before burying his head in the tall male contestant's shoulder. Struggling to speak, Walsh went on to mimic the sound of the bird, before managing to ask the computer to display the right answer – which, of course, was "vulture".
The contestant smiled before admitting: "I'd have looked stupid if it was wrong though wouldn't I," sparking another fit of laughter from the struggling host.
Are you a fan of The Chase? Which is your funniest moment?