School holiday movie of the year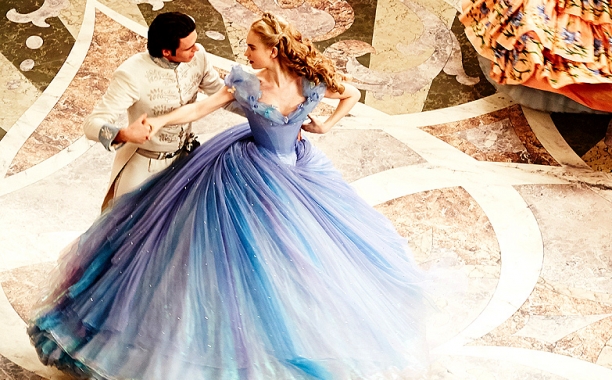 The Easter school holidays aren't far away and with them comes the movie of the year in my opinion for Grandparents to take their grandkids to.  Eight years after Enchanted, two years after Frozen, Disney is bringing to life a new version of the 1950s classic, Cinderella.  And they are not afraid to do it justice according to the reviews coming out of the USA where it opened this weekend.  It is not a reinvented film, like the recent Maleficent retelling of Snow White and the Seven Dwarves.  It is a loyal, live action remake of animated classic, starring a fabulous, award winning cast.  The film was written by Chris Weitz and directed by Kenneth Branagh.
The movie, which is based on the classic story by Jacob and Wilhelm Grimm, might not be as harmless, fun and innocent as the cartoon you fell in love with as a child. Prepare for some serious dark stuff according to some of the reviews.  Lily James (Downton Abbey) plays the poor orphan, Ella, left in the care of her cold and calculating stepmother. But, oh, what a wicked stepmother Cate Blanchett is!  Then, it has all the bits you'd expect.  There are are kindly household critters, a handsome prince, a wish-fulfilling fairy godmother (Helena Bonham Carter), and, of course, a glass slipper.
Here is a look at what critics are saying about Cinderella:
"Cate Blanchett in a delirious swirl of candy-colored evil.  Blanchett is nasty perfection from her blood red lips to her baroque Sandy Powell-designed gowns. She's like a cross between Coco Chanel and Norma Desmond, and she smartly plays her harpiedom to the back row of the theater."    Chris Nashawaty, who graded the film a B.
Ad. Article continues below.
Richard Roeper (Chicago Sun-Times)
"It's old-fashioned is what it is, and that's kind of refreshing. … The world didn't need yet another Cinderella story, but the one we got is one of the best versions ever put on film."
Manohla Dargis (New York Times)
"Ms. James effortlessly holds the big screen, less because of her beauty than the life that both animates and demystifies that beauty, making it seem less other (even a touch aspirational) and her character feel approachable and likable. It's smart casting because that likability and the smiles it solicits help take the edge off Cinderella's victimization…"
Ann Hornaday (Washington Post)
"The lovely and fundamentally uninteresting James is no match for the fire and elemental venom exuded by Cate Blanchett's evil stepmother, who is by far the film's most interesting character. With her chartreuse and green wardrobe, scarlet gash of a rictus grin and darting fits of cruelty, she seems to have beamed into Cinderella as if from a 1950s Douglas Sirk melodrama into a cozy Merchant Ivory period drama."
Ty Burr (Boston Globe)
"For a few scenes, the movie's delicate balance of bedside classicism is in danger of becoming just another ride at Disney World. But the first dance at the ball is the film's emotional center, the camera twirling, the couple alone in the crowd; it's a rapturous sequence and one that will probably set most little girls up for a lifetime of romantic disappointment."
Ad. Article continues below.
Anthony Lane (New Yorker)
"Girls in the movie theatre—fans of the full-length Frozen, I presume—will not only swoon but get the hint that Cinderella is now ready to be royal. You could try telling them that they are being drugged by sexist and imperialist archetypes that lost their potency decades, if not centuries, ago, but stand by to be strangled with your own Twizzlers. Some myths just will not go away."
Cinderella opens on the 26th March in Australia.
Will you book in to take your Grandkids to see it?