Prince William and Alexander Skarsgard normally look nothing alike ...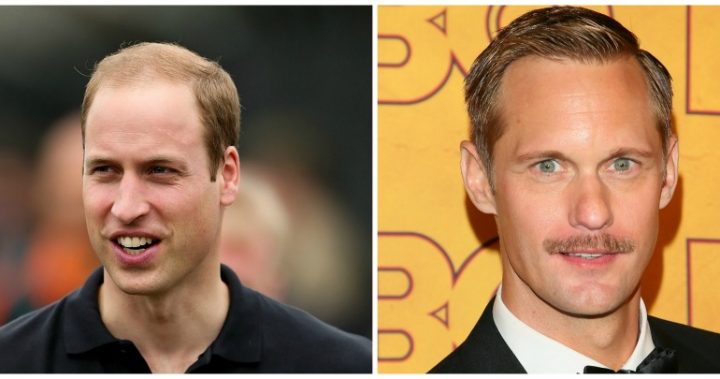 No one in their right mind would normally say there's any huge resemblance between actor Alexander Skarsgard and British royal Prince William, other than they're both caucasian with blue eyes.
But the 41-year-old actor has the internet talking after appearing with a new 'haircut' that many people reckon makes him a dead-ringer for the 35-year-old prince.
Skarsgard, who you may recognise as Nicole Kidman's abusive husband in the recent hit series Little Big Lies (or, if you've got tweenager grandkids, from the True Blood movies), debuted a half-shaved head at a Louis Vuitton exhibition in New York, setting tongues wagging about the uncanny likeness.
We can't personally see it, although the fact he was wearing an open-necked blue shirt with a suit jacket – a look favoured by Prince William – may've helped the comparisons.
Ad. Article continues below.
It's not clear what the unusual new 'do was in aid of, although AOL reports that he changed his appearance for the filming of new movie The Hummingbird Project.
The normally handsome actor was pictured looking very different just a few days before at the Emmy Awards, where his smooch with co-star Kidman hit the headlines. 
He was clearly anticipating that his dramatic change would cause a bit of a stir, however, as he was snapped in New York earlier in the day with his head very much covered by a woolly hat.
Can you see anything more than a very superficial resemblance?