Pregnant Erin Molan plans to hire nanny for 'quick' return to work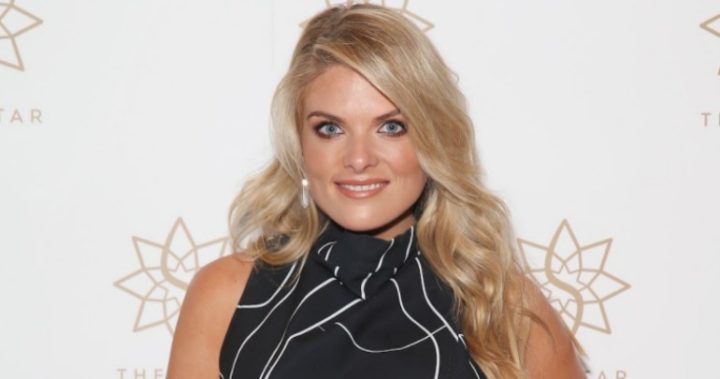 Erin Molan has revealed she plans to hire a nanny following the birth of her first child, so she can return to work "very quickly".
The Channel Nine star, 35, has made a huge name for herself on Aussie TV, and is well known for fronting the Footy Show. But while she's prioritising family, she is hoping to return to work with minimal maternity leave.
"I think I will be able to go back very quickly because I'll be able to be a full-time mum at home; I can do my prep from there, and then be able to go into work for a few hours at night," she told the Sunday Telegraph's Stellar mag.
To help her with her shifts on the 6pm sports bulletin shifts, she said she hopes to hire a nanny to accompany her to the studios, when her fiancé Sean Ogilvy is unavailable.
Ad. Article continues below.
However, she said, she's aware of how her enthusiasm may appear to mothers who have already experienced juggling a newborn with work, adding to the publication: "Other mothers reading this will probably say, 'OK, you have absolutely no idea'."
Read more: Pregnant 'Footy Show' star Erin Molan hospitalised after nasty fall
It comes after Molan was rushed to hospital following a nasty fall last month. Tests at the Royal North Shore hospital in Sydney quickly discovered that the journalist had a low blood sugar count at the time, causing her to faint. Thankfully, both mother and baby were still in good health.
Speaking about the scare, she admitted she'd felt sick beforehand, and it got worse as she arrived at work – but she was more concerned for her unborn baby.
Ad. Article continues below.
Since announcing her pregnancy, Erin has been sharing updates with her fans online. In one adorable social media post, she suggested that her grandma was excitedly knitting clothes for her baby.
Ad. Article continues below.
She shared a photo of some tiny booties, along with a vintage knitting book. "Granny is knitting our bub booties from the same knitting book she used to make booties for my Mum when she was born over 60 years ago," she wrote.
And, despite usually looking her best on TV, she shared another post to reveal that pregnancy wasn't always easy. "I feel it's important for other pregnant women to know that there is a very real and non-glam side to my pregnancy too," she said.
Ad. Article continues below.
"I'm working daily at the moment so some VERY talented souls are dressing me and doing my hair and my make up every afternoon for news. How I look ready to go 'on-air' isn't how I arrive at work or wake up."
She pointed out that she felt sick each day and that she was once called a "walking corpse". The star continued: "So whilst I am very blessed to be carrying a child when so many desperately want to and can't – like most women the reality of this pregnancy is completely unglamorous in ways far too graphic to share properly here!"
Did you hire a nanny following a child's birth? Did you manage to return to work quickly?