Matt Damon shows his dark side in 'Suburbicon'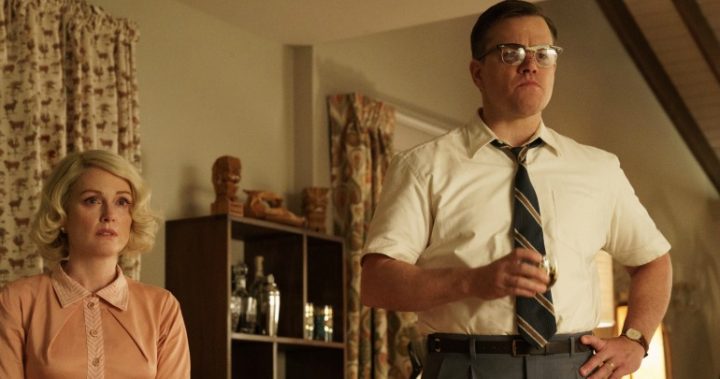 Beware, this isn't really a comedy; it's a jet-black drama with humorous elements and I'll warn you from the start it's quite dark!
After reading a lot of bad reviews I was not expecting much out of Suburbicon, directed by George Clooney, written by Joel and Ethan Coen with Grant Heslov and Clooney, and starring Matt Damon and Julianne Moore. However, I was pleasantly surprised. It was very much in the genre of the Coen Brothers' Fargo
First, there's the story of racism in white middleclass America. Gardner Lodge (Matt Damon) and his family live next door to Suburbicon's first black family. The year is 1959 and the neighborhood can scarcely believe that these black folks would dare move into this all-white suburb. The African-American family, the Mayers, who we hardly really get to know, makes a courageous effort to ignore Suburbicon's openly hateful treatment and the community-wide campaign to drive them out. By the film's end, fences supposedly built to keep these black neighbours out of view become the last line of defence for the African-American family.
Second is the subplote. While the citizens focus on the perceived threat of an invasion of black residents, they are missing the monsters living openly among them.
Lodge and his family are mostly unmoved by the racist hullabaloo next door. Instead, the family is reeling from the effects of a violent home invasion robbery that ends with the murder of Gardner's paraplegic wife, Rose (Julianne Moore). The two men who perpetuate the crime are strange and not everything is as it seems. Things get particularly tense when Rose's twin sister Maggie (also played by Julianne Moore) moves in to look after Gardner's son, Nicky.
Ad. Article continues below.
It should be also mentioned there's another unsavoury character lurking about, an insurance investigator questioning the death of Rose.
My biggest complaint about Suburbicon is its split personality. It tries to be a social commentary about segregation in the suburbs AND present a completely unconnected murder mystery. In other words, there's too much crammed into this dark comedy to be believed.  Director/co-writer George Clooney's ensemble cast is packed with intensely weird characters and their outrageously bizarre behaviours.
ROK'S RATINGS: 3 glasses of bubbly