Kirk Douglas celebrates 100th surrounded by his gorgeous family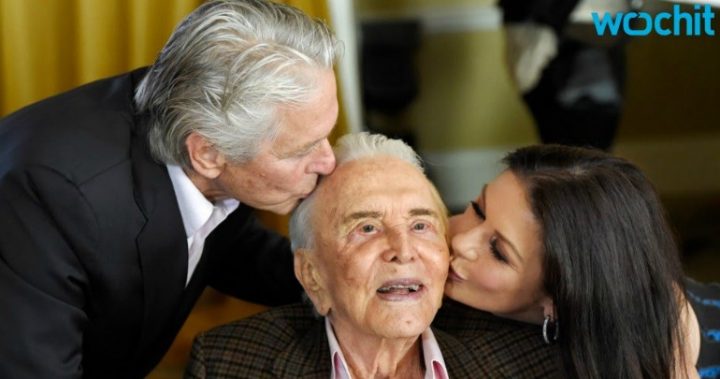 Kirk Douglas hd his nearest and dearest with him to celebrate his 100th birthday, including actor son Michael Douglas and daughter-in-law Catherine Zeta-Jones.
The veteran actor marked his landmark birthday in style on Friday night in the US, reportedly entering the room to the Rocky movie theme music to a crowd at the Beverley Hills Hotel.
His wife of 62 years, Anne, as well as movie star Don Rickles and directors Jeffrey Katzenberg and Steven Spielberg were among the 100-plus guests.
Nor has he lost his sense of humour- the 100-year-old screen legend said he'd told his doctor that if he made it to 100, he'd celebrate with a large vodka, which he did, in a very big martini glass.
Michael told the gathering that his father had lived an incredible life so far.
Ad. Article continues below.
"After all he accomplished in his professional career and what he's given for his country, at the point in his life where he's faced adversity, losing a son, having a helicopter crash, having a stroke, and what he's accomplished in this third act in his life, I find quite extraordinary," he said, according to a report in The Telegraph newspaper.
Douglas himself laughed off the praise though, saying that Michael had been picked as party organiser because "my three boys got together and they took a vote and they decided that Michael would be the host because, after all, he has the most money".
Actress Catherine looked gorgeous in a blue-and-black strapless gown on the evening. the previous night she wore a stunning sapphire-blue dress for the Vision of Legacy Gala, held by the Los Angeles Mission, where she was handed the Anne Douglas Award, named in honour of her mother-in-law Anne.
Ad. Article continues below.
Kirk and Anne Douglas were also in attendance for the charity, clearly showing that even at a grand old age, two nights out in a row isn't too much for them. 
Would you want to celebrate your 100th birthday with a big party? Or would you rather a more low-key event, or to go to a place that's special to you and your family?