US talk show host John Oliver rips Barnaby Joyce to shreds over affair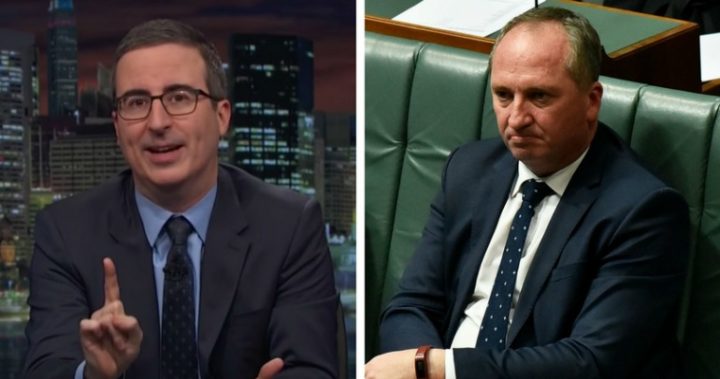 If you thought Australia's current political scene was in a sorry state, you're not alone.
Host of the hugely popular US talk show Last Week Tonight John Oliver has taken aim at Australian deputy prime minister Barnaby Joyce during the premiere of the show's new season. Oliver, who has poked fun at Australia before, suggested that our country was in "turmoil" thanks to the recent actions of Joyce.
As you'll recall, Joyce has been the centre of much public scrutiny recently following news that he'd had an affair with his staffer, 33-year-old Vikki Campion. While she no longer works for the government, she is pregnant with Joyce's baby. The pair are expected to welcome their child in April.
Meanwhile, prime minister Malcolm Turnbull has lashed out at Joyce over his actions, explaining that he'd caused great harm to his wife, Natalie, and their children. He even updated the ministerial code to put a ban on ministers having sexual relationships with their staffers.
This caused a public spat between the two politicians, with Turnbull refusing to apologise for his stance and comments, while Joyce suggested that the PM's comments made everything worse for all involved. Joyce is currently on leave for a week and won't be standing in as acting Prime Minister while Turnbull is out of the country. All this has been playing out in front of Australia, and the world.
Ad. Article continues below.
Back to Oliver, who wasted no time savaging Joyce on his program. He reminded his audience that it was Joyce who threatened to euthanise Johnny Depp's dogs in 2015 for smuggling his beloved pets into the country while filming a movie in Australia. He then went in for the attack.
"Joyce is a social conservative who opposed same-sex marriage in their referendum last year because he believes in traditional family values and you can probably see where this is going," he explained. The host played some clips of everything that has unfolded in the past few weeks, much to the amusement of his studio audience.
"Now, you might think that that's hypocritical," Oliver said. "But in reality, Joyce has such incredible family values that he can't restrict them to just one family. The Australian media has understandably jumped on this story like a deputy prime minister with a wife and four children jumping on his 33-year-old former media adviser. They even went so far as to track down the father of his girlfriend, who is frankly not thrilled with Barnaby's behaviour."
Oliver played his audience another clip of Campion's father, calling him "the most Australian man who ever lived". Back in Australia, there are calls from both the public and other politicians for Joyce to be sacked over his actions. While he stated last week that he and members of the National Party don't believe he should step down, it's a topic of conversation that has divided the country.
Ad. Article continues below.
Starts at 60 asked our readers what they thought of the matter and if they believed Joyce should quit or simply get on with the job. At the time of publication, 51 per cent of readers believed he should no longer be the deputy prime minister, while 49 per cent suggested he should continue on past the backlash. You can vote in the poll below.
The conversation is a debate that many Starts at 60 readers are passionate about. One reader left a comment that read: "As long as the politician doesn't break any laws, they can shag every willing woman or man in Canberra and I wouldn't care. That is a private matter for themselves, their families and the shagees! What do I care if they are competent enough at their job?"
Another disagreed, saying: "The full scope of what he's done and the false claims for accommodation etc are still coming out. If he'll lie to his wife he has no problem lying to us. That's not what I look for in a politician."
What do you think? Is this something that Australians need to accept happened and move on, or should Joyce be punished for his actions?