Countdown hostess delights fans with distinctly saucy on-air move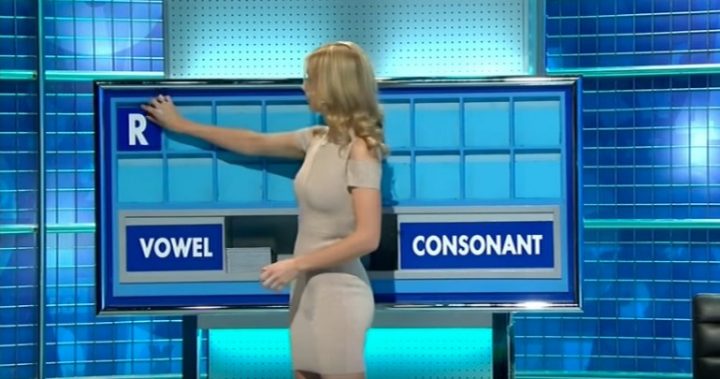 Cult British game show Countdown is usually a display of intelligence, as contestants solve word and number puzzles.
But viewers got a sneak peak into the cheeky side of co-host Rachel Riley on a recent show, with even the Channel 4, the UK TV channel that runs the famous show, raising an eyelid at her nerve.
Countdown, which is one of the longest-running game shows in the world, having started in 1982 (the French version has been running since 1965!), isn't usually for the faint-hearted, because it requires contestants to make the longest words possible from nine random letters, then use mental arithmetic to reach  target numbers from other random numbers.
Finally, the contestants have to compete to solve an anagram, and some of the repeat winners achieve mini-celebrity status in the UK for their formidable intellect. (They're certainly not competing for the money – there is no prize cash, just a teapot for the winner.)
But it's not normally known for its saucy humour. Brainy co-host Riley, whose job includes placing letters on the board as players select them, usually puts them in a random order. But when one contestant spotted the word 'squirt' could be made from some of the letters, she quickly rearranged the remaining letters to spell out an unexpectedly revealing phrase.
Ad. Article continues below.
Riley clearly knew what she was up to, because she had a distinctly cheeky look on her face. And while co-host Nick Hewer didn't react, Channel 4 certainly did, noting the mischievous joke with a tweet:
We'll just leave this here…#COUNTDOWN pic.twitter.com/Fd2BGy97xT

— Channel 4 (@Channel4) January 31, 2018
Of course, fans of the clever and pretty Riley were shocked and delighted, with almost 2,000 of them liking the tweet.
Countdown made an unlikely sex symbol of Riley's predecessor, Carol Vordeman, a maths whizz who appeared on the show for 26 years alongside long-time host, the late Richard Whiteley.
Ad. Article continues below.
Vorderman started out as a demure-looking 21-year-old Cambridge graduate who amazed viewers with her ability to perform mental calculations, but went on to become a glamorous pin-up for daytime TV fans, releasing diet and exercise videos and appearing on numerous other TV programs. She was even named Rear of the Year in 2011.
Have you seen Countdown? Do you think you'd be able to do the mental gymnastics required to compete?