When live TV goes horribly wrong: 'Inappropriate' dog steals the show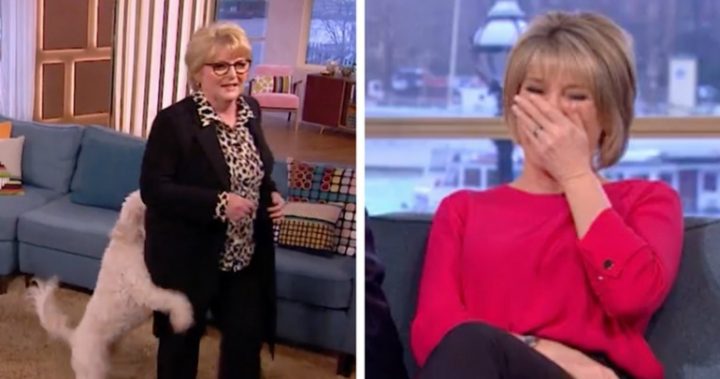 If you need a bit of a laugh this weekend, this extremely awkward yet hilarious clip is bound to do the trick.
British talk show This Morning was thrown into chaos last month when a fluffy white dog named Jack got a little too excited on set. It all began when his owner, Brenda Blethyn, appeared on the program to talk about an upcoming TV series she was appearing in.
At first, it looked as though the interview went well. Jack sat quietly beside his owner as she talked about her new show with hosts Eamonn Holmes and Ruth Langsford. It wasn't until the interview was finishing up that things took a hilarious turn for the worse.
In the clip, which has gone viral since being uploaded to Facebook earlier this month, Brenda could be seen shaking Eamonn's hand to say goodbye. Out of nowhere, Jack appears to become randy and mounts his owner.
Ad. Article continues below.
"Jack!" Brenda can heard be shouting at the dog as he perches himself onto her arm. Both Eamonn and Ruth burst into laughter, unsure what to do to help their mortified guest.
"Was that on the television?" Brenda asked, unaware that the footage was being beamed live into millions of homes around the United Kingdom. Ruth, who couldn't contain her laughter, informed her guest that her worst fears were coming true. "I'm afraid so," she tried to say through a fit of giggles. "He does love you, doesn't he?" she quipped.
Brenda, who managed to briefly calm down her pooch, apologised before his excitement kicked back in. As the segment came to a close, Jack almost knocked his owner off the couch as he continued to get extremely playful.
Perhaps the funniest moment was the camera capturing Brenda walking off the set, with Jack chasing after her and humping her leg, much to the delight of the show's hosts. People have been quick to share their delight in the video online. One person on Facebook wrote: "I was in hysterics. Funniest bit was when Brenda was walking away from the set and yelled Jack to make him stop and he just grabbed her back one more time".
Another viewer said: "I can't stop watching it. The look on poor Brenda's face. Hilarious. I'm actually crying laughing". A third added: "I love the way he was so well behaved languishing on the sofa and plotting his next move. A regular slot for Jack me thinks".
Ad. Article continues below.
Still, as funny as the clip was, one viewer didn't see the humour, explaining: "Sorry to be a spoil sport by when she realised what was happening she should have put that dog on a short lead and told it that it was wrong. Past experience show it isn't good behaviour especially if that was a child the dog was being extremely friendly with".
It has been viewed nearly 2 million times since it was originally uploaded. 
What did you think? Has anything embarrassing like this ever happened to you in public?
---
With Facebook removing news sites from your feeds we ask that you sign up for Starts at 60's emailers here. And to keep us on your wall, join some of our new Facebook groups and clubs:

News Junkies Club – Australia
News Junkies Club – USA 

See news on the change and links to all our other clubs and groups here.