Bette Midler: I was drugged, assaulted by US TV star Geraldo Rivera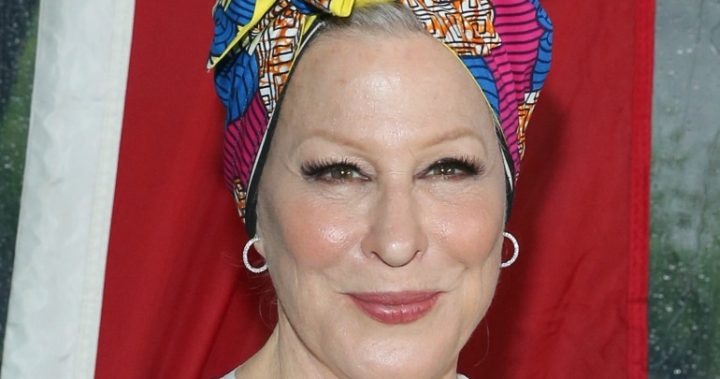 Bette Midler has joined the many women making sexual harassment allegations against high-profile male TV and film stars, posting a 1991 video of herself revealing that she was drugged and sexually assaulted by famous reporter and presenter Geraldo Rivera.
Rivera had caused outrage by defending TODAY show star Matt Lauer, who was fired by NBC for inappropriate behaviour with a number of women. Lauer is one of the biggest stars in US daytime TV, and his sacking came as a shock to many, with Rivera tweeting that Lauer was a "great guy" and adding that "news is a flirty business".
Sad about @MLauer great guy, highly skilled & empathetic w guests & a real gentleman to my family & me. News is a flirty business & it seems like current epidemic of #SexHarassmentAllegations may be criminalizing courtship & conflating it w predation. What about #GarrisonKeillor?

— Geraldo Rivera (@GeraldoRivera) November 29, 2017
But shortly after his tweet, a video resurfaced of Midler accusing Rivera himself of groping her. In a 1991 interview with famous interviewer Barbara Walters, who herself has come under fire for being an apologist for Hollywood's sexual abusers, Walters asked Mdler about what was then Rivera's new autobiography.
Ad. Article continues below.
The autobiography told of a sexual encounter with Midler, in which Rivera, who called the book Exposing Myself, described Midler as "insatiable", Rolling Stone reported.
Midler at first laughs off the description but then goes on to say that she didn't recall the event as Rivera described it, but as something that was "not funny".
"Geraldo and his producer came to do an interview with me, in the Seventies, in the early Seventies," Midler went on, seeming uncomfortable about speaking about the incident, which she proceeded by saying that "I'm going to get in trouble".
"This was when he was very hot. He and his producer left the crew in the other room, they pushed me into my bathroom, they broke two poppers and pushed them under my nose, and proceeded to grope me … I did not offer myself up on the altar of Geraldo Rivera. He was unseemly."
Poppers is a common name for amyl nitrate, which is sometimes used to heighten sexual experiences. In the video, Walters seems to want to brush the revelation aside, quickly responding to Midler's comment by saying, "Let's go on to other things".
Ad. Article continues below.
But Midler clearly hasn't forgotten the incident, or the interview, tweeting a clip of the discussion on her personal Twitter account on Thursday,.
Tomorrow is my birthday. I feel like this video was a gift from the universe to me. Geraldo may have apologized for his tweets supporting Matt Lauer, but he has yet to apologize for this. #MeToo pic.twitter.com/TkcolFWfA2

— Bette Midler (@BetteMidler) November 30, 2017
For anyone who didn't get the message that she considered it a sexual assault, she tagged the tweet #metoo, as the many women who've had such an experience have done.
Yup. Me, too.

— Bette Midler (@BetteMidler) November 30, 2017
Ad. Article continues below.
Her tweet referred to the fact that Rivera, 74, subsequently apologised for his tweets about Lauer, but only after several tweet in which he continued to imply that women were using the accusations for financial gain and that accusations shouldn't be believed unless there were witnesses to the assault.
A jerk's a jerk in dating. #SexHarassment should be confined to situations where superior imposes himself on subordinate who feels unable to complain because of power of perp or feared consequences to victim's employment. Shouldn't be used to get even w bad bosses or hated ex's

— Geraldo Rivera (@GeraldoRivera) November 29, 2017
Heard well-regarded women in media today suggesting morning shows go to an all-female format. That should be as unacceptably retro as the other way around.

— Geraldo Rivera (@GeraldoRivera) November 29, 2017
Ad. Article continues below.
#SexHarassment allegations should require: 1-made in a timely fashion-say w/n 5 yrs. 2-some contemporaneous corroboration, like witnesses, electronic or written communications. W $ settlements in multi-millions slight chance exists some victims are motivated by more than justice

— Geraldo Rivera (@GeraldoRivera) November 29, 2017
This issue is so red hot right now there is no room for any thought or opinion but hang em high. If News wasn't (formerly) a flirty biz then how do we explain so many newsroom courtships that have led to happy marriages?

— Geraldo Rivera (@GeraldoRivera) November 29, 2017
Ad. Article continues below.
Reaction to my tweets today on #sexharassment makes clear
I didn't sufficiently explain that this is a horrendous problem
long hidden-Harassers are deviants who deserve what is coming
to them-Often victims are too frightened to come
forward in a timely fashion-I humbly apologize

— Geraldo Rivera (@GeraldoRivera) November 30, 2017
Lauer and Rivera are only two of the many men who've been accused in recent days. Among them are Australian actor Geoffrey Rush, while Minnesota Public Radio (MPR) said on Thursday that it had severed connections longtime presenter and best-selling author Garrison Keillor over what was reportedly inappropriate behaviour.
Keillor, who is world famous for his Lake Wobegon books, responded by saying that "fifty years of hard work [had been] trashed in a morning by an accusation".
"It's some sort of poetic irony to be knocked off the air by a story, having told so many of them myself, but I'm 75 and don't have any interest in arguing about this," Keillor wrote on his own website. His radio series 'A Prairie Home Companion' and 'The Writer's Almanac' were hugely popular, helping put MPR on the global broadcasting map.
Ad. Article continues below.
Lauer himself has released a statement saying that although some of the accusations made against him were "mischaracterised", there was enough truth in them to make him ashamed.
"There are no words to express my sorrow and regret for the pain I have caused others by words and actions," Lauer said, according to a statement reported by People magazine. "To the people I have hurt, I am truly sorry. As I am writing this, I realize [sic] the depth of the damage and disappointment I have left behind at home and at NBC."
Do you agree with Geraldo Rivera, or do you think that women are only coming forward now because the world is more receptive to hearing their stories?