Allison Janney recreates iconic Meryl Streep kiss on Graham Norton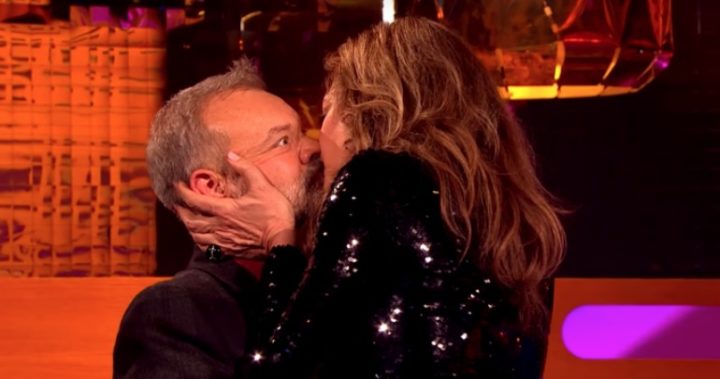 Awards season is in full swing in Hollywood and one of the stars hoping for Oscar glory shared some acting tips very publicly on a talk show.
On a recent episode of the hugely popular Graham Norton Show in the United Kingdom, actress Allison Janney revealed that Meryl Streep once gave her the best tips when it comes to kissing on screen. It came as the guests were talking about what it's like to film kissing scenes in movies and TV shows.
The pair, who had appeared in the 2002 film The Hours together, shared a rather raunchy snog during the movie. Allison suggested that the scene looked so good because of a very simple tip Meryl shared with her.
"One of the greatest, Meryl Streep, I had to kiss in a movie called The Hours," she explained to Graham and an array of other celebrities including Australian star Margot Robbie, Daniel Kaluuya and Alicia Vikander. "She was not happy with the way a certain scene was being lit and we had to kiss and she said, 'I'm going to do you a favour. You're going to thank me for it later'."
Ad. Article continues below.
Allison then asked Graham if she could demonstrate the kiss on him. "Of course you can," he said. "Yes please. No tongues."
The Hairspray star pointed out that she had some folds on her face and that Meryl had pulled back the skin on her cheeks before she went in for the kiss. Being the actress she is, she demonstrated it perfectly on Graham, pulling him out of his chair and kissing him on the lips.
"So that's what she did for me," Allison said after the kiss. "She actually pulled my face back and kissed me. You can go watch the movie. It's very funny to see that."
Graham joked that he wanted Allison to win the Oscar, just so he could say he's kissed an Academy Award winner.
Shortly after filming the show, Allison took to Twitter to let her fans know that she'd had a great time. "Well, that was super fun," she wrote.
Ad. Article continues below.
Well, that was super fun. Thanks @thegnshow for having me! ????
.#margotrobbie #aliciavikander #danielkaluuya @Camila_Cabello #thegnshow pic.twitter.com/VvwFxaPejm

— Allison Janney (@AllisonBJanney) February 16, 2018
"Thanks @thegnshow for having me!" She also included a kissing emoji at the end of her message.
In addition to her latest movie, I, Tonya, Allison appears on the hit TV sitcom, Mom.
What did you think of the kiss? Are you a fan of Allison Janney? Have you ever noticed Meryl Streep doing that in The Hours before?
Ad. Article continues below.
---
With Facebook removing news sites from your feeds we ask that you sign up for Starts at 60's emailers here. And to keep us on your wall, join some of our new Facebook groups and clubs:

News Junkies Club – Australia
News Junkies Club – USA 

See news on the change and links to all our other clubs and groups here.