Tony Jones finally gets a kiss from a Judd!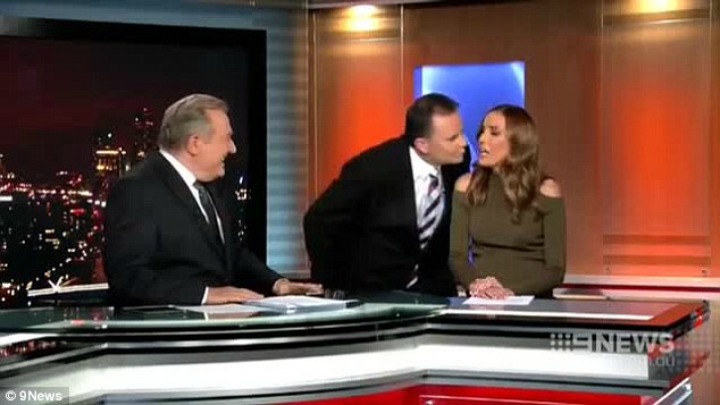 Seems like the Judds have kissed and made up with Tony Jones after last week's awkward moment between Mr Jones and Rebecca Judd.
Former Carlton football star Chris Judd ambushed Tony in the corridors of Channel 9 on Monday night and planted a cheeky kiss on his cheek.
Chris was in the building to appear on Footy Classified as a guest and bumped into Tony who was signing off after the nightly news bulletin.
The kiss, which was posted on Instagram, showed there were no hard feelings after Tony's awkward on-air run in with Chris' pregnant wife Rebecca a week earlier.
Ad. Article continues below.
Weather presenter Bec had just delivered her last report before maternity leave, when Tony and news stalwart Peter Hitchener wished her well for the impending arrival of the couple's twin boys.
Jones then leaned in for a kiss on air, but Bec dodged, before collapsing into giggles with Mr Hitchener, who could barely contain his laughter while wrapping up the program.
The awkward encounter quickly went viral on social media.
Red faced Jones later admitted: "All I could think of was please let this end and throw to the closer. Most people can see the funny side of it. It might look awkward but we all do get on like a house on fire," he said.
Ad. Article continues below.
See the video below:
Bec responded by tweeting Tony after the bulletin: "You know I love you". Clearly, her husband does too!
What do you think of this response from the Judds? Is it a good way to clear the air?