Tomic reveals what he really thinks of his tennis career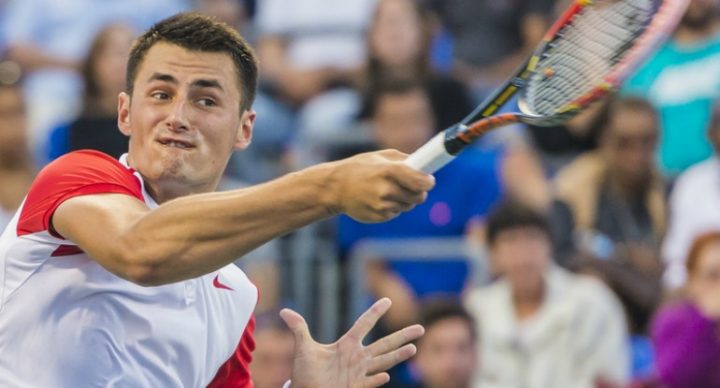 It's something he's already been accused of but now Bernard Tomic admits it; he's only playing tennis for the money.
While it's hard to know how many fans he has left after his recent outbursts this Aussie tennis pro probably lost a few more after appearing on Sunday Night hosted by Melissa Doyle.
Read more: I'm rich, you're not: Bernard Tomic piles new insults on tennis fans.
Admitting to wanting to 'piss a few people off, with his post match press conference speech saying he was bored, the player, who has already earned more than $7 million in prize money, with millions more in sponsorship, said he now feels trapped into playing. "I never loved tennis. I am just going to go about it as a job, " he told Doyle.
ON NOW: 'Most Aussies dislike you right now.' @melissadoyle cut straight to the chase in her chat with Bernard Tomic. #SN7 pic.twitter.com/naw2HyH52h

— sunday night (@sundaynighton7) July 23, 2017
Ad. Article continues below.
Read more: Bernard Tomic cops double whammy after outburst. 
At times Tomic said he did give 100 per cent, but other times it was only 30 per cent, so it averaged out. 
"I think all my career's been around 50 per cent.  I haven't really tried and really achieved all this, so [it's] just amazing what I have done," Tomic said.
"Wouldn't anyone want to take a job in a professional sport in one of the biggest sports in the world and only give 50, 60 per cent and earn millions of dollars? I think everybody would take that."
Ad. Article continues below.
Is that understandable, coming from someone who grew up without lots of money?
"I didn't come from a rich family. We had no money, and now … living in all these lavish houses and property around the world, it's my choice. It's something that I've worked for."
While diehard tennis fans will be shaking their heads, others have come out in support, saying plenty of people earn lots of money and don't love what they do, so why shouldn't he?
I'm confused. Why does Bernard Tomic have to love his job? Know plenty of ppl who work for the $ #sundaynight

— Sarah Curnow (@MissSarahCurnow) July 23, 2017
What do you think? Good on him, or get him off our courts?