'Three Summers' is a roll call of Australian acting talent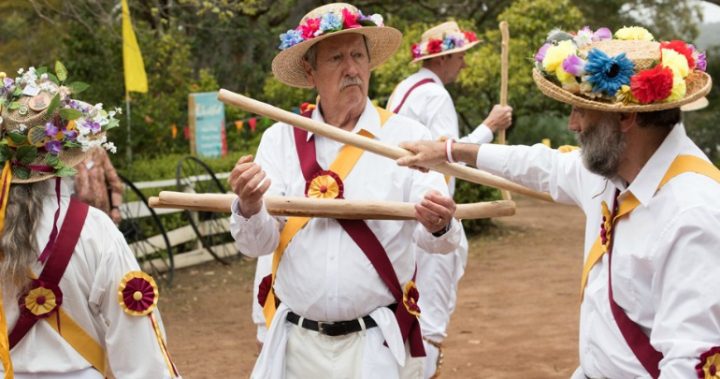 This likeable but predictable film is basically a light and bright love story. Three Summers is Written and directed by Ben Elton. It is set over three consecutive years of the fictional Westifal Music Festival (its slogan: "Let's get folked up").
There's a romance between Keevey, the feisty lead singer of an Irish folk band (Rebecca Breeds, formerly of Home and Away) and an Irish folk-music hating theremin player, Roland (Robert Sheehan, Misfits).
These two are, in almost every sense of the word, opposites. However, as you all know, this proves no barrier when it comes to romantic comedies.
Whhile Breeds and Sheehan are at the heart of Three Summers, there is a roll call of Australian acting talent to support them.
Magda Szubanski is the effervescent community radio host Queenie, who welcomes the campers back three summers in a row for a "folking good time"; John Waters is Keevey's heavy drinking father and Deborah Mailman his nemesis, the AA leader trying to get him to confront his excessive consumption; Michael Caton leads a team of Morris dancers but finds it difficult to hide his racism when an Aboriginal dance group "invades his space"; and Peter Rowsthorn is a regular camper at the festival, but he and his companions never venture any further than their wine cooler.
Ad. Article continues below.
Not all of us only want to see the latest superhero offering, or thought-provoking human drama. Sometimes a light-hearted Australian film is actually quite appealing. Sure, the film has flaws — and it has also been regarded as being a 'political work', something that surprised Elton — but it has all the hallmarks of a crowd-pleaser like The Castle and The Dish.
The musical score was also very good even if you aren't a fan of the theremin (an instrument I'd never heard of prior to this). Dan Sultan, The John Butler Trio, Xavier Rudd, Gotye, Sarah Blasko and Dr. G. Yunupingu all contribute to the soundtrack.
ROK'S RATINGS: 3.5 glasses of bubbly
Have you seen Three Summers? What are your thoughts?
Interested in submitting your stories and opinion pieces to Starts at 60 or Travel at 60? You can sign up as a contributor here. We also invite you to connect with other community bloggers and learn more about blogging in our dedicated Bloggers Club on Facebook.