Those girls! Patsy and Eddy storm British Fashion Awards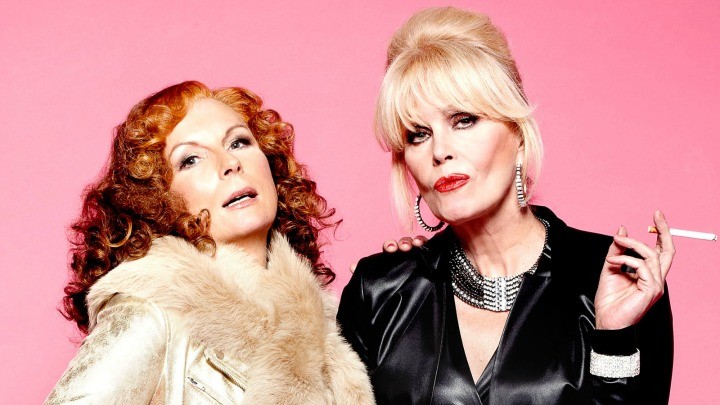 It's been a while but Patsy and Edina are back where they should be – staggering along the red carpet and cosying up to the most important people at British Fashion Week.
Joanna Lumley and Jennifer Saunders brought their favourite OTT characters to life, presenting an award to fashion designer Stella McCartney and posing raucously on the red carpet with anyone they could grab hold of.
Dressed in true flamboyant style, Lumley and Saunders never once broke character, reports the Daily Mail, playing the boozy best friends from the hit series Absolutely Fabulous with far more dedication than was probably necessary.
Ad. Article continues below.
The pair has been shooting the upcoming film, Absolutely Fabulous: The Movie over the past few months.
When presenting Paul's daughter with her award, Patsy slurred, "I am in my spiritual home. Shout out to all my homies. The winner has literally come from nowhere. She's been making bags out of the pubic hair of wheatgrass for years… it's Stella McCartney!"
Joanna Lumley told The Mirror that it doesn't take long for her to slip into Patsy mode, "It takes a tragically short time, darling. Sometimes Jennifer Saunders and I will watch an episode together just to get it back in our heads. Although of course it's secretly in my head all the time."
When asked how she felt about turning 70 nest year, she said, "Yay! I am so excited. It's hard to explain how getting older feels. I was formed so many years ago. All that's changed is the outside, the person inside hasn't. Getting older isn't a sin. If you're alive, you'll get old.
"There is no point denying it. F**k it, if you've done how much I've done, you are just jumping for joy when you hit my age. I have amazing things happening next year, so roll on 70!"
Are you looking forward to the Ab Fab movie? Were you a fan of the series?