This passenger realised her Uber driver was an Olympic dad, so she sent him to Rio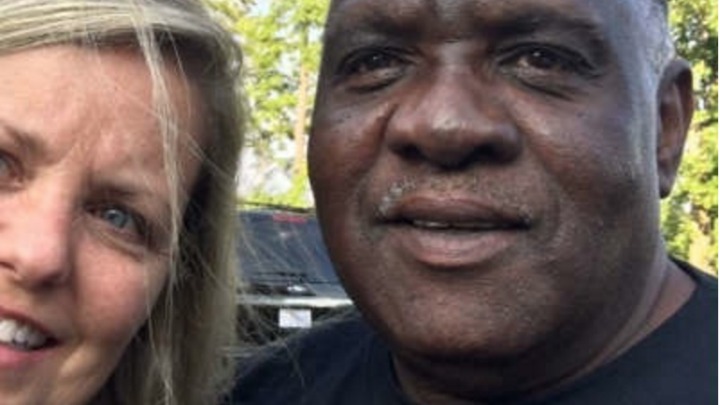 Here's a story that will melt your heart and restore your faith in humanity.
Ellis Hill had never driven his Uber across the river before and that decision has proved to change his life.
Shuttling a passenger over the bridge to New Jersey was just the latest in a series of firsts for the Philadelphia resident in July. His son Darrell, a Penn State track and field star, had just made the U.S. Olympic team for shot put on his first try.
Ellis never really thought about joining him in Rio de Janeiro. Traveling to South America, he explained, was simply more than he could afford.
"It wasn't in the cards at all," Ellis told Upworthy. "I was thinking about getting a good bag of popcorn and sitting down to watch it on TV."
But his passenger on that Uber trip, Liz Willock, had other ideas.
"I was just crushed because any good parent would want to see their son or daughter compete as Olympian," Willock told Upworthy. "I said, 'Ellis, you're an Olympic father! You need to go.'"
Ad. Article continues below.
Willock, who works for a company that transports medical patients to and from clinical trials, quickly realised she could use her professional connections and experience to fund and plan a trip to Rio for him.
After consulting with Ellis' son Darrell, Willock launched a GoFundMe campaign to send the Olympian's father to Rio.
The effort raised $8,200, easily exceeding its $7,500 goal.
Willock credits the efforts of dozens of strangers for helping make the fundraiser a success, including a United Airlines pilot who donated airline miles to cover Ellis' flight to Brazil and the family of Joe Kovacs, Darrell's teammate, who were the first to donate and plan to meet Ellis when he arrives in the city.
Would like to personally thank everyone who donated to help my Dad get to Rio, we achieved our goal. God is Good. #Thankful

— Darrell Hill (@B1GHomie) August 1, 2016
Ad. Article continues below.

Ellis has never traveled out of the country before, and said that he's "ecstatic" to have the opportunity to watch his son compete in the games.
"This is really a big deal in our family right now," he said.
Darrell's mother, siblings, grandparents, and friends from all over the country — including Ellis' new colleagues at Uber, among whom he's become a celebrity, are all cheering for him.
Though he doesn't expect to see Darrell until after he competes, Ellis explained that getting to soak in his son's success is its own reward.
Are you happy for Ellis?