This note on a donated wedding dress shows that true love never dies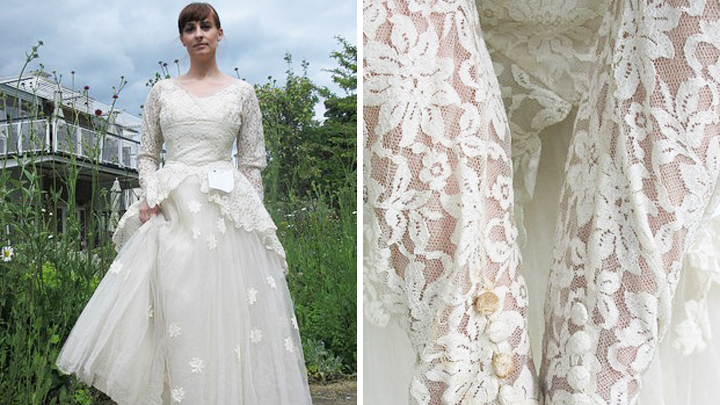 In a truly heartwarming story, this week it was reported that a gorgeous wedding dress was donated to the Charity Shop at St Gemma's Hospice in England. This would be an unremarkable story had the ivory lace peplum dress not had a touching note attached.
The shop, based in Leeds, accepts clothing donations to raise money for cancer patients in the hospice, and the staff were delighted to find the exquisite dress had been dropped off for sale.
According to a report by Buzzfeed, the dress has such intricate stitching that it was most likely made for its bride from scratch, and that was not all: a note, carefully attached with a safety pin to the bodice, told of a beautiful marriage, and not the sad divorce some might assume from the disposal of a wedding dress.
The note read: "I wish any lady who takes this dress to have a life with her loved one, 56 years like I did, happy years. I was a lucky man to marry a lady like mine".
When the staff found the note, they immediately posted the pictures of the dress to Facebook to thank the man who had donated it.
Ad. Article continues below.
There was so much interest in the dress and the story, the charity shop decided to sell the dress on eBay, drawing bids of over £1000.
That's to the power of the world wide web, the shop announced that they were able to locate the man who donated the dress and wrote the touching note about his late wife.
In a Facebook update by the shop, they said:
"We have news! We have found the kind gentleman who donated the beautiful vintage wedding dress to St Gemma's Hospice this week. He is over the moon that we are giving somebody the opportunity to buy the gorgeous gown on ebay. He is a big fan of St Gemma's Hospice and is overwhelmed with the International attention that his late wife's dress is generating. He is so happy and proud that the Hospice will benefit from funds raised by the auction of the dress. He wishes to remain anonymous and we fully respect his decision but he is watching the media frenzy with interest and thinks it is wonderful. We have thanked him so much for his kindness and he would like to thank everyone for their support".
What a wonderful story.
Ad. Article continues below.
Do you still have your wedding dress? Or did you donate it?