This beautiful story shows that kindness appears in the strangest places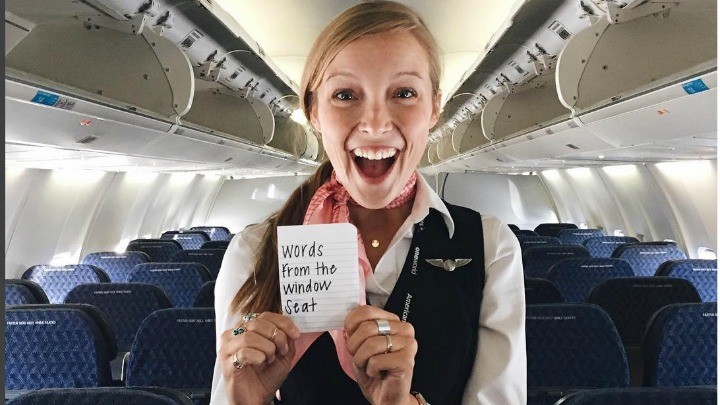 Inspiration and comfort come from the strangest places – but surely none so strange as this!
Imagine this – you bustle your way onto a plane and gaze out the window, ready to take off. There, taped to the little oval window is a note, written in neat handwriting on plain paper in a black pen.
It says, "Be kind to yourself".
If you happen to find something like this on your next flight, it could be inspired by the work of a bubbly American flight attendant called Taylor Tippett, who started posting little messages of kindness on plane windows a year ago.
Ad. Article continues below.
Ms Tippett wrote that first note when she was feeling down after her engagement was called off.
She told Huffington Post, "I was being really not nice to myself and I've learned over time how important it is to love yourself.
Ad. Article continues below.
"I was sitting just kind of reflecting and giving myself a pep talk. I was doodling and I found this little notebook that one of my instructors gave me at flight attendant training, and I had a Sharpie right there, so I just wrote down, 'Be kind to yourself'."
Not long after, she created the Words From The Window Seat project because she "wanted to let others know they weren't alone".
One year later, Tippett has more than 122,000 followers on Instagram and her words of kindnesss have helped countless nervous fliers, stressed businessmen, frazzled parents and jilted lovers all catch planes and hopefully smile a little.
Ad. Article continues below.
"There's nothing like meeting 300 plus people a day and knowing your smile and kindness matters," she told Upworthy.
And that's a great reminder for all of us to spread a little kindness when we can, too.
Do you have some words of kindness to share?