They said it wouldn't happen to books, but now TV is dying...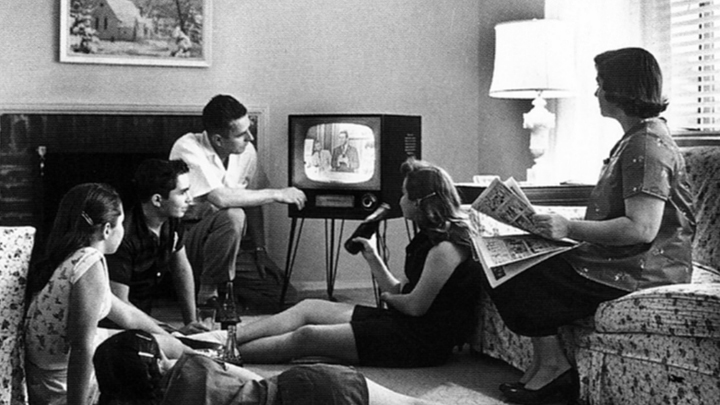 15 years ago, it was hard to go to any shopping centre without seeing a book shop every few stores. They were everywhere and book sellers were confident that physical books weren't going to die. So what did they do? They opened more book stores than coffee shops.
Now, in 2015, some major shopping centres have one or none. Why? Because the book as we knew it has died. And as more and more people looked for convenience and found it in cheaply-priced eBooks, their sales began to soar and consequently put book retailers out of business.
This same thing is happening to television as we know it, yet it seems not everyone is worried. So will TV in its present form die?
According to Netflix CEO Reed Hastings, broadcast TV is comparable to the horse and the car. "It's kind of like the horse, you know, the horse was good until we had the car," Mr Hastings said. "The age of broadcast TV will probably last until 2030″. Do you agree with him?
It seems everyone has been talking about streaming media lately and it really does have some businesses shaking in their boots. Take Foxtel for example – they've been putting ads everywhere, reducing their plan prices and encouraging more customers to sign up. Only a few years ago, Foxtel were ahead of their game as one of just a handful of Pay TV services and they could charge customers whatever they liked. But now, Netflix, Presto, Stan and Quickflix are available in Australia for as low as $10 a month and offer a range of shows that are comparable to Foxtel, if not better. The Australian Financial Review reported last month that almost 10 per cent of Foxtel's customers (that's 250,000 people) are considering cancelling or downgrading their subscriptions in the next three months. That's quite shocking.
Ad. Article continues below.
But other industry experts disagree that the TV will die soon, and B&T Magazine recently published an article that said TV will die when the couch dies, so, never. Is that a fair statement to make?
According to Nielsen's senior vice president, Erica Boyd, "Australians have a large appetite for good content and TV sets continue to be the main place audiences go to satisfy this need, supplemented by [digital] content. The latest Multi-Screen Report shows TV viewing hours remain relatively stable compared with previous years," she said. This basically means that we're still spending a lot of time in front of the box – but that doesn't tell us how our habits are changing.
So are we really willing to start paying for our TV and paying for the convenience of watching all of our favourite shows when we want? We have Free TV in Australia and it's got fairly decent programming, but it doesn't seem enough for some.
Venture Consulting senior manager Phil Codrington said that Australia doesn't have the same culture of paying for TV that other countries do and that was likely to limit subscriptions to paid TV services. "Because pay TV is almost considered an essential service in some ways [in America], it's seen in quite a different way to what it's seen in Australia," he said.
All in all, there doesn't look to be any huge changes in how broadcast TV itself operates in the next couple of years, but it's sad to think that something so many of us grew up watching and used as a family connector, could become a solo activity as more and more children start to watch TV on devices away from the living room.
Ad. Article continues below.
One thing we can hold on to is that there is yet to be a huge uptake of TV's successor, the paid streaming services. Newspapers and magazines have gone online, radio is being replaced by apps, but there is no clear alternative online to television – the experience of television has not yet been accurately replicated the way we know and love.
So tell us today, if TV like we have it now ended tomorrow, what would you do? Would you sign up to a streaming service? What do you think TV will be like in 20 years?