The Queen and Margaret Thatcher's tense relationship revealed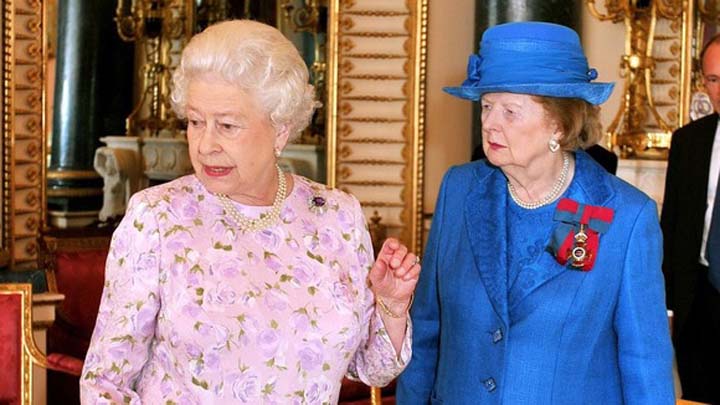 Rumours that Queen had a dislike for Margaret Thatcher had never been confirmed…until now. In a new biography about Margaret Thatcher by Charles Moore, it is revealed just what the Queen thought of the former PM.
Ad. Article continues below.
An excerpt published in
The Daily Telegraph
 outlines how Mrs Thatcher was sworn to secrecy about anything the Queen had told her.
The animosity came to a head, Moore writes, "when a serious disagreement arose between Buckingham Palace and Downing Street over the issue of sanctions against apartheid South Africa. Mrs Thatcher opposed them, fearing making South Africa more of a pariah state would hold back progress towards reform. The Queen, as head of the Commonwealth, was under pressure from its leaders to support sanctions".
In July 1986, the Queen ended her summer holiday in Balmoral early to save the Commonwealth.
The Sunday Times ran the headline: "Queen dismayed by 'uncaring' Thatcher", and reported that the rift between monarch and Prime Minister over South Africa and the Commonwealth was indeed real.
In Thatcher's biography, Moore writes, "Buckingham Palace rushed out a statement, saying that 'as with all previous prime ministers, the Queen enjoys a relationship of the closest confidentiality with Mrs Thatcher, and reports purporting to be the Queen's opinion of government policies are entirely without foundation'".
But apparently it was the Queen's press secretary Michael Shea who told Andrew Neil, the editor of the Sunday Times.
So the Queen needed to quash the rumours and rang Mrs Thatcher to tell her "that she 'could not imagine how the story came to be circulated, and anyway it bears no relation to the truth as I understand it . . .'", wrote Moore.
"Many people were naturally disposed to believe the Palace denial (or apparent denial), which was repeated by [Sir William] Heseltine (the Queen's private secretary) in a letter to the Times. But the fact that the story had come from the Queen's press secretary meant that the paper and its proprietor, Rupert Murdoch, were able to stand by it. It was clear to Mrs Thatcher, therefore, that there had been some truth in it".
It was believes that Mrs Thatcher felt desperately hurt by the Queen's dislike for her, but never verbalised it.
Tell us, do you think the Queen should have revealed that she wasn't a big fan of Thatcher, even to her most trusted people? Did you like Thatcher yourself?