The must-see duet 50+ years in the making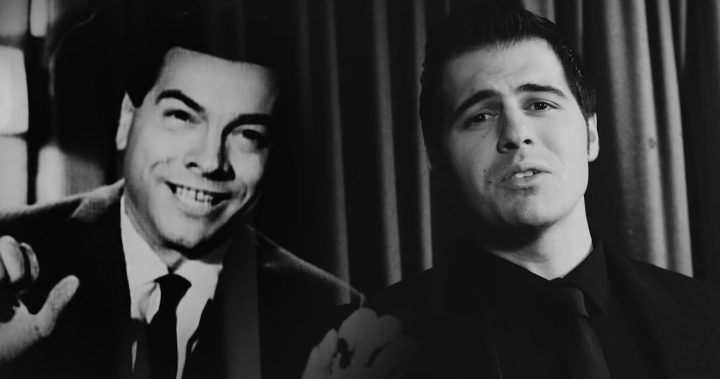 The great Mario Lanza – tenor, Hollywood icon and "last of the great romantic performers" – left this world at just 38. But more than half a century later, his legacy lives on through the performers he inspired, including Australia's own Mark Vincent.
At just 23, Mark is already known and loved by many in the Starts at 60 community. His 8th studio album, A Tribute to Mario Lanza, is a heartfelt "thank you" to the man who helped get him started on this journey.
Not only does Mark channel the great man's passion with his new renditions of the classics; he even gets to perform side-by-side with his late idol in album's opening track.
Watch the pair sing together in a "virtual duet" of Because You're Mine:
Ad. Article continues below.
Click here to order the full album.
Mark shot to stardom at the tender age of 15, when he performed Nessun Dorma on national television. He hasn't slowed down since. 
"It's been such an incredible journey," says Mark. "If you would have said to me, eight years ago now, that I'd be sitting here talking about my eighth album… I never thought it would have been possible."
He first started performing as a 10-year-old Sydney boy, working at the Italian restaurant of his grandfather, Bruno.
From the moment Bruno heard Mark's beautiful singing voice, he went out of his way to support and encourage his grandson.
Ad. Article continues below.
"Customers would come in and he would say: 'everybody be quiet, my grandson's going to sing for you'."
In these humble early days, Mark found inspiration and confidence in the music of Mario Lanza. His famous performance in the 1951 film The Great Caruso proved a lasting influence. 
"He had such a rich tone in his voice… He captured me from that very moment."
"He had no fear as a performer. You get some tenors who get a little bit afraid of their top range; they're a little bit hesitant. Mario Lanza didn't have that… nothing stopped him. That was unique. It came across in his performances."
It's this confidence that Mark aims to emulate to this day.
Ad. Article continues below.
"Inside I'm a marshmallow, but I say this humbly: I'm ambitious. When I want to achieve something, I do everything in my self-ability to make it happen."
"When I was 15 I was very shy and very quiet… My mouth would dry up, I would hyperventilate.
"It gets easier. Think about it: people in the audience want you to do well. They're there to see you. They're there to support you. They don't want you to be nervous, because then they'll be nervous; they'll feel that energy. I think every great performer in the world gets that, but they learn how to handle it better."
Mario Lanza is a tough act to follow, but Mark has approached the challenge with incredible care and respect, ensuring he had the blessings of the Lanza family and estate each step of the way.
"It was a lot of hours in the studio, because we wanted to get this right. It was very important that I was bringing memories back to people."
Ad. Article continues below.
However, he didn't shy away from being his own artist with his own style.
"The songs that Mario did… we have to respect them for what they are. But I don't think it's wrong for an artist to give his own little tweak, or her own little tweak, to the ballads."
The end result is a wonderful and fitting tribute to two very important men: the legendary tenor who inspired him, and the loving grandfather who got him started.
"Music saved my life. I lost my grandfather at 14. He was an inspiration in my life. He started my career. Music keeps me going. That's something I keep inside of me all the time."
Mark Vincent's A Tribute to Mario Lanza is available now. Click here to learn more, or watch his full interview with Starts at 60's Ian Skippen below.