The moving new film narrated by 100 of our favourite stars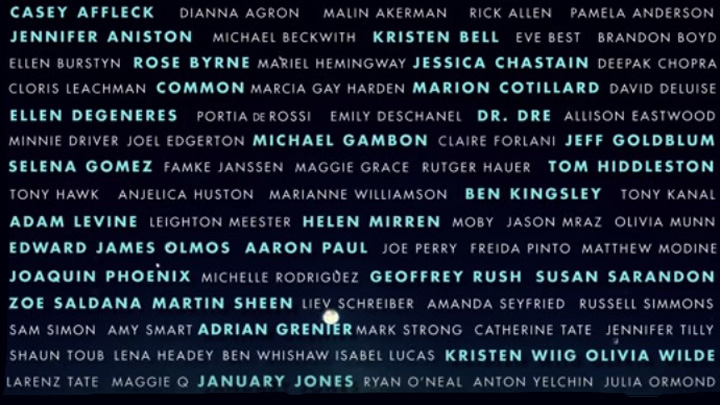 Despite the advent of science, literature, technology, philosophy, religion, and so on – none of these has stopped humankind from killing one another, the animals, and nature.
The new film UNITY has seen 100 of our favourite stars join forces to speak about our biggest fault as a race, our inability to do just that.
Labelled as a wake-up call to us all, UNITY will be shown in cinemas worldwide from tomorrow and you may recognise some of the narrators: Helen Mirren, Jennifer Aniston, Susan Sarandon, Kevin Spacey, Jeff Goldblum, Geoffrey Rush, Anjelica Huston, Ellen Degeneres… just to name a few!
Written, directed and edited by Shaun Monson, the film explores why humans cannot find peace with one another, set against a montage of footage from the 20th and 21st century.
Ad. Article continues below.
"I had a wonderful experience working as one of the narrators on the documentary film Unity. It was interesting to be involved in this film with an important message, and I encourage you to see it in theatres on August 12″, Dame Helen said.
Monson said, "It needed to have a narrator and I didn't want to have one because it's called Unity. I felt multiple voices would be good, although I didn't think we would do 100.
"My original goal was 25 – no one had ever done 25 narrators before. With five chapters, I thought we would get a few per chapter, and it would be easier for them and easier for us to mix it up.
"100 was never a goal, but multiple narrators was – multiple voices speaking to you, different ages and different ethnicities. That was very important", Yahoo! reports.
Here's the full list of the 100 narrators:
Ad. Article continues below.
Aaron Paul
Adam Levine
Adrian Grenier
Alison Eastwood
Amanda Seyfried
Amy Smart
Anjelica Huston
Anton Yelchin
Arian Foster
Arlene Martel
Balthazar Getty
Ben Kingsley
Ben Whishaw
Beth Hart
Brandon Boyd
Caroline Goodall
Carrie-Anne Moss
Casey Affleck
Catherine Tate
Claire Forlani
Cloris Leachman
Common
Damien Mander
David Copperfield
David DeLuise
David LaChapelle
Deepak Chopra
Dianna Agron
Dr. Dre
Edward James Olmos
Ellen Burstyn
Ellen DeGeneres
Emily Deschanel
Eve Best
Famke Janssen
Fan Bingbing
Freida Pinto
Geoffrey Rush
Gregory Colbert
Hailee Steinfeld
Helen Mirren
Isabel Lucas
January Jones
Jason Mraz
Jeff Goldblum
Jennifer Aniston
Jennifer Tilly
Jesse Carmichael
Jessica Chastain
Joaquin Phoenix
Joe Perry
Joel Edgerton
John Paul DeJoria
Jorja Fox
Julia Ormond
Kathy Freston
Kevin Spacey
Kristen Bell
Kristen Wiig
Larenz Tate
Leighton Meester
Lena Headey
Liev Schreiber
Maggie Grace
Maggie Q
Malin Åkerman
Marcia Gay Harden
Marianne Williamson
Mariel Hemingway
Marion Cotillard
Mark Strong
Martin Sheen
Matthew Modine
Matthieu Ricard
Michael Beckwith
Michael Gambon
Michelle Rodriguez
Minnie Driver
Missy Higgins
Moby
Nestor Serrano
Olivia Munn
Olivia Wilde
Pamela Anderson
Paul Watson
Persia White
Phil Donahue
Portia de Rossi
Rick Allen
Rose Byrne
Russell Simmons
Rutger Hauer
Ryan O'Neal
Sam Simon
Selena Gomez
Shaun Toub
Susan Sarandon
Tim McIlrath
Tom Hiddleston
Tony Hawk
Tony Kanal
Zoe Saldana
Tell us, is it about time we had a movie like this? Will you be seeing it?