The Love Bug's Dean Jones dies at 84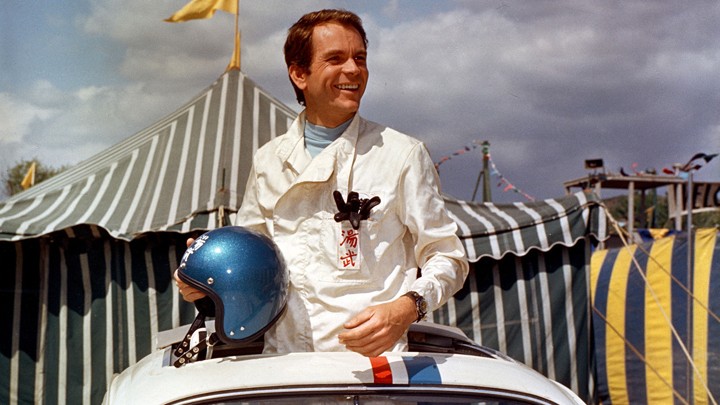 Sad news for those of us who grew up watching Disney movies in the '60s and '70s: Dean Jones, the original driver of Herbie, a.k.a. The Love Bug, has passed away.
According to the BBC, he died in Los Angeles of complications related to Parkinson's Disease.
The screen and theatre performer is most widely known as the star of The Love Bug and several of its sequels. As a down-on-his-luck racecar driver, he brought a hilarious straight-man charm to the role.
With a few hand gestures and incredulous expressions, he convinced an entire generation of Disney fans that a car could come to life – not as easy a skill as it seems. This talent worked just as well for him playing alongside animals in That Darn Cat! and Monkeys, Go Home.
His contributions to children's films continued well into his later years; personally, I have just as many fond memories of seeing him through the eyes of my children. To their generation, he's best remembered as the conniving, dog-napping vet in 1992's Beethoven.
Ad. Article continues below.
While far from subtle, this later performance was enormously entertaining; even the parents couldn't help but laugh at his over-the-top expression at the climax when the dog bit him in the groin.
But his defining performance – as Herbie's driver – won't be fading into history in a hurry. Disney is a company that goes out of its way to keep its legacy strong. Last Christmas the original Love Bug joined the queue in my grandchildren's DVD collection – alongside plenty of other Disney classics. It's enormously comforting knowing a great, underrated actor will come to life again and again for future generations.
Their childhoods – and ours – have been made all the more entertaining thanks to Dean Jones' presence. He will be missed.
Take a trip down memory lane with us below, and tell us: did you grow up with The Love Bug? What are your fondest memories of this great, underrated actor?