I have just bought a season ticket to the Queensland ballet for 2016!
Okay, this isn't exactly earth-shattering news, but it has brought back so many happy memories; memories which remain clear even though they started over 60 years ago.
I saw my first ballet at around 4 years of age. My great aunt, also Godmother, took me to see Margot Fonteyn dance at the old Theatre Royal in Sydney. It was instant love! It was also a case of move over Margot, Karen is here – at 4, I was still a long way from developing my 173 cm (5 feet 8 inches) and size 40 (9) feet!
I annoyed the life out of my mother until she took me to ballet class at around 6. I was in heaven, but already the tallest in the class. A few years later I changed teachers and moved to the ballet school run by the wonderful Beth Dean. Ms Dean and Mum knew each other and although Mum and Dad insisted that going to ballet class depended on doing well at school, they wanted me to have a good teacher.
Beth accepted me into her classes but quietly told Mum to dissuade me from thinking I would ever be a ballerina; Mum went into immediate lioness mode. Beth waited until the lioness finished her growl then pointed to my feet and hands; it was already abundantly clear, the word "petite" was not in my future. Nonetheless, I continued to take classes until my mid-teens, when my Leaving Certificate loomed large and I was the tallest, including the boys, in my class! Graciously I retired from ballet at 15 – Dame Margot was safe!
Ad. Article continues below.
I continued to go to ballets and saw many of Australia's greatest dancers, Sir Robert Helpmann, Kelvin Coe, Marilyn Jones, Lucette Aldous, Garth Welch and the tiny, exquisitely beautiful Kathy Gorham. I'll never forget her performance in The Display and Yurgen. Of course these dancers have made way for today's stars; you can trust one thing, the various dance and ballet companies in Australia, have dancers to match and surpass any in the world. It is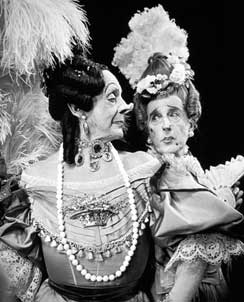 no surprise that Australian dancers are found in the world's so-called "top" companies.
There was a time in Sydney when the major venue for ballet and opera was affectionately known as the Newtown Opera House. The Elizabethan Theatre in Newtown was the scene of many wonderful ballet nights, but the one I remember clearly is when Sir Robert Helpmann and Sir Frederick Ashton danced the Wicked Step Sisters in Cinderella, Sir Frederick's own creation. Their pairing was absolute genius and to my shame, I cannot remember another dancer in that performance. To my utter delight, I was taken backstage to meet them – oh what Knights!
In the early 70's, a few years pre-Sydney Opera House, there was a performance of Don Quixote in Canberra I was desperate to see, despite living in Sydney. I took Friday off work, caught the bus to Canberra, changed at the bus station into evening dress, went to the Ballet then back to the bus station, into my travelling clothes and arrived home about midday the next day. It was worth the trouble such a magnificent performance again with Sir Robert Helpmann in fine form. My memory tells me I paid an obscene price for the ticket, but in today's terms it was approximately the same price as the movies. Considering however I would have been earning about $30 per week, luckily I was still living at home!
One of the great pleasures of the annual Nutcracker is seeing the young ballet students, many little girls in their tutus with their hair in a bun, lighting up as the curtain rises – you can see them rehearsing in their mind for their own debut, dancing Clara or the Sugar Plum Fairy. If you look carefully, you will see Karen, aged approximately 6 and a half, she is the tall one with the blazing red hair, pulled back into the obligatory dancers bun of course.
Ad. Article continues below.
As much as I love the original Nutcracker, Graeme Murphy's Nutcracker, the Story of Clara is truly delightful as is his restaging of Swan Lake. Ballet is not static, it grows, develops and changes. I'm lucky to have seen some of this growth over so many years and now roll on 2016 Ballet Season, I'm back!
Are there other budding baby boomer ballerinas out there? Do tell us your story.