The devastating reunion that created "Love Child"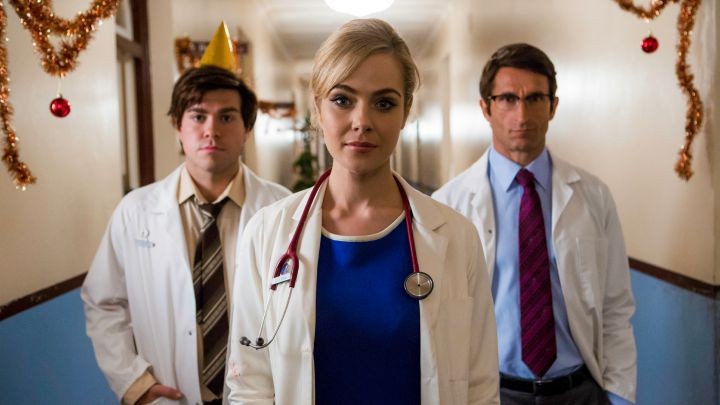 Sarah Lambert, creator of the runaway hit drama Love Child, still remembers the look on her family friend's face when her long-lost daughter knocked on the door.
The writer was only eleven years old.
"There was a knock at the door and there was a young woman standing there. She said she was the daughter of my mother's friend. She had been given up at birth and had been hunting for her mother for years.
"I remember turning around and seeing our family friend's face; her legs went out from under her. No one knew she'd had a baby – her husband didn't know, her children didn't' know. But there she was."
In the coming months the friend's story unravelled but, being a child, Ms Lambert was not privy to any details. Instead, she caught snippets of the story – and it terrified her.
Ad. Article continues below.
"I heard that she had been sent from Queensland to St Margaret's [a hostel for unwed mothers like Stanton House in the series] in the Darlinghurst area.
"She didn't even know if she'd had a boy or a girl. I remember saying I couldn't believe someone would do that to someone, and Mum said, 'that's just what happens'.
"It scared me, the fact that you could have to go through all that on your own and then be expected to move on as if nothing ever happened. It stayed with me at night."
Ms Lambert says the situation eventually ended the friendship between the friend and her mother.
"Even as a child, I realised we weren't really supposed to talk about what had happened. There was still so much shame and heartbreak. It was too painful for her to have anyone know – she still felt she had done something terribly wrong."
Ad. Article continues below.
Many years later, with a successful acting and screenwriting career, Ms Lambert still held the memory of that family and the devastating reunion. When the Senate Inquiry Report into Forced Adoption was released, she read the accounts of the women who gave evidence and knew their stories needed to be told.
"There were 250,000 women who were sent to places like Stanton House and were forced to give up their babies," says Ms Lambert. "The people who gave their stories were so brave, [the stories we tell Love Child] are a lot less harsh than it really was for many women."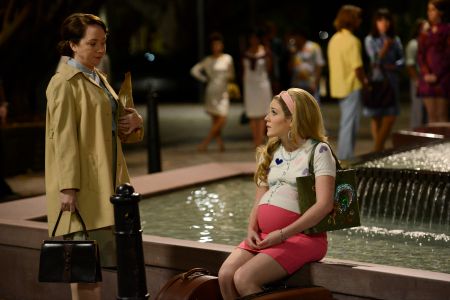 She says it was essential to tell the story from within the context of the time.
Ad. Article continues below.
"The forced adoption system was government policy and it was practised in many hospitals. It was a 'clean break' theory – the belief at the time was, the less the women knew about their babies the better. They were never allowed to refer to themselves as mothers.
"You also have to remember that, for some women, it was the right thing to do. A lot depended on whether you had support from your family, if that was the case, it was somehow easier."
When writing the series, Ms Lambert was determined for it not to be bleak. By setting the action in Kings Cross in the "swinging 60s", it was always going to be full of colour and life.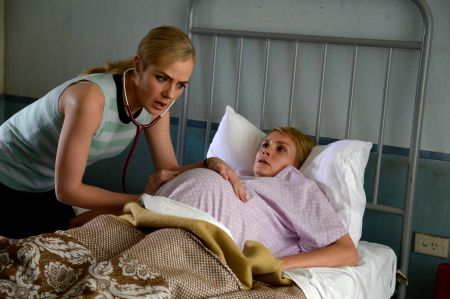 Ad. Article continues below.
"What struck me about the time was how women from every background met in these places, spending months together and forming friendships.
"Then there was also this opening up of society, the rise of feminism, the sexual revolution and freedom. But at the heart of that an incredible conservative society where, if you got pregnant out of wedlock, the rules were still the same. My aim was to juxtapose these two worlds. "
In the late 60s and early 70s, the Cross in Sydney was the centre of cosmopolitan Australia. It was beautiful and had a Parisian feel. The crew recreated the hero street scene at Fox studios, while also shooting in locations that had retained the original look.
Ms Lambert stepped back from the series when she fell pregnant with her son Tom, who she describes as her "miracle baby". She had previously had her daughter Tilly through IVF and had assumed she would not had another. In fact, Ms Lambert was so wrapped up in filming Series 2 she didn't notice she was pregnant for three months! She continues to be involved in the upcoming series as consultant producer.
As a mother, Ms Lambert shudders to imagine sending her daughter away in shame to have a baby. But she can also understand the parents' position.
Ad. Article continues below.
"It's impossible for us know to comprehend the taboo around unwed mothers. It was hidden behind a veil of secrecy; there was shame all around it. People thought they were protecting their daughters by doing this," she says.
The most gratifying this, she adds, has been removing the veil, exposing something that affected so many families here, and around the world.
"Any family in the world will have a story along these lines. If not adoption, then parents claiming ctheir daughter's child to cover up the family secret."
"[The period of forced adoptions] is such an important part of our history. I thank God my daughter will never have to go through that, but I do want her to understand that it is part of our legacy and to get people talking about these things," says Ms Lambert.
Has your life been touched by the events depicted in Love Child? Do you think Sarah Lambert has captured the events in true faith?
Love Child Season 2 is out now on DVD & Digital